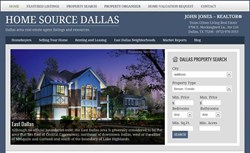 The health of an individual neighborhood and the subtleties of its very localized housing market are rarely captured in a broad report covering a larger region.
(PRWEB) January 31, 2014
Dallas real estate agent, John Jones, has released a detailed market report covering the East Dallas residential neighborhood known as Little Forest Hills, an area containing just under a thousand homes.
Not to be confused with Forest Hills, the neighborhood known as Little Forest Hills is located on the southeast side of White Rock Lake across from Garland Road and is adjacent to the neighboring subdivision of Casa Linda Forest to the southeast. Little Forest Hills, which is easily identified by the novelty street signs bearing its name, has many unique characteristics that make it especially attractive for many homebuyers.
"Market reports focused on smaller communities are an incredibly valuable tool, both for sellers and homebuyers searching for homes in the area," explains Jones, who has worked in the Dallas real estate industry since 1999. "The health of an individual neighborhood and the subtleties of its very localized housing market are rarely captured in a broad report covering a larger region."
The area contains a mix of both modern and contemporary styled homes with more rustic, cottage-style homes, mature trees and typically pier and beam construction. The neighborhood features artistic landscaping, wide streets and sidewalks and is within walking distance of White Rock Lake and the Dallas Arboretum for most of its residents. Little Forest Hills also hosts an active neighborhood association that works to preserve the charming characteristics of the area.
Subdivisions within the boundaries of Little Forest Hills include Broadvu, Lake Crest, Lakeland Terrace, and Shamrock Shores.
The Little Forest Hills market report covers the 12 month period ending in December of this year. The report compares the current 12 month period to the same ranges from the last two years to provide a comparative snapshot of the market direction and pricing trends of homes in the neighborhood.
"Real estate markets in target areas can be much more erratic than metro wide reports might show. The market can vary remarkably from year to year depending on a large number of factors in the current economic environment such as interest rates, taxes, government subsidies, even things like gas prices," says Jones. "By comparing these more focused market reports with one another, savvy homebuyers can gain insight into real estate trends that might otherwise go unnoticed."
The report is freely available for download at http://www.homesourcedallas.com/
About John Jones
John Jones is a Dallas real estate agent specializing in homes for sale in east Dallas and surrounding areas. He has over 15 years experience in the local real estate market that includes expertise as a real estate agent, mortgage banking and brokering, and forensic financial analysis. Mr. Jones' knowledge of the mortgage side of property sales combined with his understanding of the DFW Metroplex real estate market help him to provide his clients with distinct advantages when purchasing a home and overcoming many of the hidden complexities in the financing process. A Dallas native of over 30 years, Mr. Jones is actively involved in community outreach projects such as neighborhood clean up and restoration, animal shelter and placement, and home building volunteer work for underprivileged families.