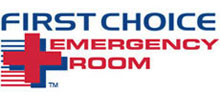 Lewisville, TX (PRWEB) May 15, 2014
First Choice Emergency Room, the leading freestanding emergency room system in the United States, will participate in the Wildflower! Arts & Music Festival in Richardson, Texas on May 16th -18th. First Choice ER's branded monster truck ambulance, the Whambulance, will be at Galatyn Park in Richardson all three days.
Attendees can take pictures with the Whambulance, a converted 2005 Chevy Kodiak Heavy Duty Ambulance, and will have the chance to win great prizes.
"We are looking forward to participating in the Wildflower! Festival and help educate the communities we serve about the high quality emergency medical care we provide," said Dr. Nelson Jaeggli, Facility Medical Director of First Choice Emergency Room - Garland.
First Choice Emergency Room is an active supporter in the communities it serves. When both the Richardson and Garland facilities opened, donations were made to the local high schools. Furthermore, First Choice ER hosts multiple community events and serves as an annual Toy for Tots drop site.
All First Choice Emergency Room facilities are open 24 hours, 7 days per week and the company has two facilities conveniently located to the festival. The Richardson facility is located at 1291 W. Campbell Road, Richardson, TX 75080 and the Garland facility is located at 7050 N Shiloh Road, Garland, TX 75044. To learn more, please visit http://www.fcer.com/locations/dallas-map/.
About First Choice Emergency Room
First Choice Emergency Room (FCER.com) is the nation's leading network of independent freestanding emergency rooms; it is both the largest and the oldest. First Choice Emergency Room is revolutionizing the delivery of emergency medical services for adult and pediatric emergencies by offering patients convenient, neighborhood access to emergency medical care. First Choice Emergency Room facilities are innovative, freestanding, and fully equipped emergency rooms with a complete radiology suite of diagnostic technology (CT scanner, Ultrasound, and Digital X-ray) and on-site labs. All First Choice Emergency Room locations are exclusively staffed with board-certified physicians and emergency trained registered nurses. First Choice Emergency Room has two locations in the Austin area, 14 in the Dallas/Fort Worth area, 13 in the Houston area, one in the San Antonio area, one in Colorado Springs and one in Denver. According to patient feedback collected by Press Ganey, First Choice Emergency Room provides the highest quality emergency medical care and received the 2013 Press Ganey Guardian of Excellence for ranking in the top one percentile of patient care nationally. First Choice Emergency Room is an Adeptus Health company.