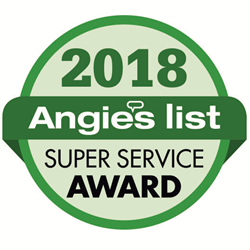 "We could not win the numerous awards we have over the years without the amazing team of pet sitters and dog walkers that we have." Joette White, President of Park Cities Pet Sitter
DALLAS (PRWEB) February 04, 2019
Park Cities Pet Sitter is proud to announce that it has earned the home service industry's coveted Angie's List Super Service Award (SSA) for 2018. This award honors service professionals who have maintained exceptional service ratings and reviews on Angie's List during the 2018 calendar year.
"The service professionals that receive our Angie's List Super Service Award represent the best in our network, who are consistently making great customer service their mission," said Angie's List Founder Angie Hicks. "They have provided exceptional service to our members and absolutely deserve recognition for the exemplary customer service they exhibited in the past year."
Angie's List Super Service Award's 2018 winners have met strict eligibility requirements, which include maintaining an "A" rating in overall grade, recent grade and review period grade. The SSA winners must be in good standing with Angie's List and undergo additional screening.
This is the 7th time that Park Cities Pet Sitter has won an Angie's List Super Service Award since 2011.
Park Cities Pet Sitter's President, Joette White, said that she is most proud of her company's year over year consistency of great service, and gives full credit for that to her employees. "It is our company's mission to provide a service experience that people rave about," said White. "We take that commitment very seriously, and it is something that is reflected in hundreds of small ways each day. We do everything we can to make Park Cities Pet Sitter a great place to work, and our employees return that favor by providing great care to each client and pet. We could not win the numerous awards we have over the years without the amazing team of pet sitters and dog walkers that we have."
Service company ratings are updated continually on Angie's List as new, verified consumer reviews are submitted. Companies are graded on an A through F scale in multiple fields ranging from price to professionalism to punctuality.
For over two decades Angie's List has been a trusted name for connecting consumers to top-rated service professionals. Angie's List provides unique tools and support designed to improve the local service experience for both consumers and service professionals.
About Park Cities Pet Sitter: PCPSI has served the Dallas, Richardson and Plano areas 7 days a week, 365 days a year since 1992, and was recently named the 2017 Business of the Year by the National Association of Professional Pet Sitters. Dog walking, pet sitting, pet taxis, overnight sitting, pet supply shopping, and dog training are some of the many services PCPSI offers. Park Cities Pet Sitter is bonded and insured, and all sitters are employees--not independent contractors. A manager is on-call 24 hours a day to handle any emergencies. Go to http://www.pcpsi.com to learn more.