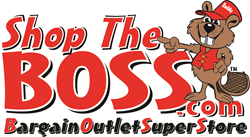 I'm proud knowing that we bootstrapped every aspect of our business to help it become what it is today. -Richard Bell, owner and founder of The BOSS.
Dallas, TX (PRWEB) November 13, 2014
What started as a small, one-man operation out of a North Texas garage has transformed into a contender to become one of the largest locally-owned flooring and home improvement stores in Dallas.
The BOSS, also known as The Bargain Outlet Super Store, recently expanded to include more than 30,000 square feet of showroom and store space in northwest Dallas. While it focuses on carpet and flooring, The BOSS now carries everything needed to complete a home renovation, from toilets and door hardware to cabinets and counter tops.
"I'm proud knowing that we bootstrapped every aspect of our business to help it become what it is today," said Richard Bell, owner and founder of The BOSS. "It's incredible to look back and see just how far we have come."
For almost a decade, Bell worked to make a name for himself in the lumber brokerage industry. Always one to seek more opportunity, he eventually started his own wholesale company in 2008 and started buying and selling truckloads of closeout building materials from the garage of his 2-bedroom home in Euless, Texas.
As the wholesale business grew, Bell came across a single bundle of crown molding he couldn't bring himself to pass on even though he wouldn't be able to sell it within his normal business model. He had it delivered to his home and stored it in his garage. Soon after, he was able to sell the pallet on the internet and the seed for The BOSS was planted.
Selling the crown molding inspired Bell, and he slowly began accumulating more inventory by visiting and developing relationships with every flooring distributor in Dallas. Right around the time Richard began running out of room in his garage, he and his wife discovered they were expecting their first child.
"I'm not parking in the driveway with a baby," his wife said in reference to the garage. This led Bell to rent a modest warehouse near DFW Airport and transferring the inventory he had stockpiled. At 3,000 square feet, the warehouse seemed huge. Bell said he asked himself "How am I ever going to fill this entire space?"
The BOSS continued to do so well that he soon rented and filled every surrounding building in the warehouse complex before moving the store to its current location.
"At the end of the day, we're here to build professional relationships with our customers by providing them everything they need in a no-hassle environment," Bell said. "Our top priority is to always provide value."
The BOSS provides both the ideas and products needed to help customers upgrade their homes. Its one-stop shopping removes the guesswork from home improvement projects. When combined with its products, The BOSS' knowledgeable sales staff helps consumers save time and money. The BOSS caters to contractors, real estate investors and weekend DIY warriors and helping them tackle projects of any size. The BOSS makes flooring and home improvement easy. The BOSS also continues to expand its online presence at http://www.ShopTheBOSS.com.