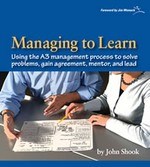 The tracks are designed to help customers create a curriculum that fits their training needs.
Cambridge, MA (PRWEB) November 25, 2013
The nonprofit Lean Enterprise Institute will introduce three tracks of workshops at its lean management training session in Dallas, January 21-24, 2014.
The tracks, consisting of related workshops, are: Key Concepts and Tools, Problem-Solving, Lean Management Systems and Practices. They are designed to help customers create a curriculum that fits their training needs.
Workshops will run from 8 a.m. to 4 p.m. at the Sheraton Downtown Dallas Hotel, 400 N. Olive Street ·
Track 1: Key Concepts and Tools

Key Concepts of Lean
Standardized Work: The Foundation for Kaizen
Kaizen: the Culture of Continuous Improvemen
Track 2: Lean Problem Solving

Problem Solving to Align Purpose, Process and People
Managing to Learn: The Use of the A3 Management Process
Track 3: Lean Management System

The Lean Management System
Leader Standard Work
Visual Management
Additional Workshops:

Improvement Kata / Coaching Kata
Optimizing Flow in Office and Service Processes
Value-Stream Mapping: a Methodology for Sustainable System Improvement
Gemba Walks - A Management Process for Leading the Organization
5S - Visual Workplace
Tuition ranges from $800 to $1600 and includes all participant materials, breakfast, lunch, and snacks each day. Complete details about course content, instructors, discounts, and how to register are available by calling (617) 871-2900, emailing the registrar at registrar(at)lean(dot)org or by visiting the Lean Education web page at http://www.lean.org/Workshops/WorkshopCalendar.cfm?cureventid=159 .
About Lean Enterprise Institute
Lean Enterprise Institute Inc., a 501(c)(3) nonprofit based in Cambridge, MA, makes things better through lean research, education, publishing, and conferences. Guided by a mission to advance lean thinking and practice around the world, LEI also supports other lean initiatives such as the Lean Global Network, the Lean Education Academic Network, and the Healthcare Value Network. Visit LEI at http://www.lean.org for more information.