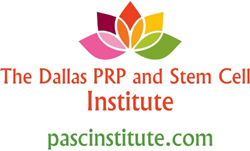 The Dallas PRP and Stem Cell Institute treats patients with arthritis and orthopedic injuries using evidence based nonsurgical techniques. Our clinical trials help further define best practices in this growing field - Don Buford, MD, Founder
Dallas, TX (PRWEB) June 06, 2016
The Dallas PRP and Stem Cell Institute is a nationally recognized treatment facility founded by orthopedic surgeons interested in nonsurgical regenerative techniques to treat patients with arthritis and orthopedic injuries. The Institute is now enrolling patients with arthritis in a clinical trial comparing a non steroidal anti-inflammatory medication with Curcumin.
Curcumin is an anti-inflammatory plant-based herbal supplement that may be safer than NSAIDs like Ibuprofen or Naproxen and as effective as NSAIDs in relieving arthritis pain. The Institute is also enrolling patients with shoulder rotator cuff tears in a stem cell research trial to evaluate if surgery can be avoided in this select group of patients. The stem cells are from the patients' own bone marrow and the procedure is done in the office in about 45 minutes. The stem cells have the ability to help the body heal itself and delay or prevent the need for surgery.
The Dallas PRP and Stem Cell Institute hopes that these 2 new clinical trials will continue to advance the nonsurgical options available to patients with arthritis and other orthopedic injuries. For enrollment questions and more information, please contact the Dallas PRP and Stem Cell Institute's clinical trial coordinator.