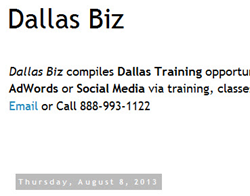 Dallas is one of the larger cities in Texas, yet lacks the technology and knowledge infrastructure of cities such as Austin, Texas.
Dallas, TX (PRWEB) August 16, 2013
The latest localized blog on training issues, "Dallas Biz," has been launched, according to the JM Internet Group. 'Dallas Biz' is part of the company's local outreach program, creating lively localized blog content on SEO, Social Media Marketing, and AdWords in Dallas with a local twist.
"While our training is taught online, I do quite a few localized workshops in Texas cities such as Austin, Dallas, and Houston," explained Jason McDonald, Director of the JM Internet Group. "What we find, however, is that many Texas businesses are significantly behind those in major California cities in terms of their knowledge of SEO, social media marketing, and Google AdWords."
To read the new 'Dallas Biz' blog, go to http://www.dallas-training.org/, as the blog shares local Dallas business learning opportunities including training, classes, and courses that are helpful to new or existing businesses in the Dallas and Fort Worth areas.
More on 'Dallas Biz'
Unlike the San Francisco Bay Area, home of the JM Internet Group, the Dallas area tends to lag a bit behind in technology trends such as SEO (search engine optimization) and SMM (social media marketing). Course demand has been high among Dallas-based small businesses and organizations, as well as those in other parts of Texas such as Plano, Richardson (cities near Dallas) as well as Austin and Houston. Austin, of course, is known as the technology capital of Texas.
The 'Dallas Biz' blog caters to the need of Texas small businesses for localized training content, and compiles information on non-profits, government sites, libraries and other agencies that can help small Texas businesses get started or make the transition to a more effective Internet marketing strategy.
In addition, the reality is that many of the local Texas government or non-profit organizations do not themselves understand SEO and so they are not very visible to the small business owner in Dallas! The 'Dallas Biz' blog addresses this inadequacy as well: helping small business use the Internet to find local business resources. It's ironic, but many of the best and most useful government or non-profit resources are all but invisible on Google searches.
About JM Internet Group
The JM Internet Group provides SEO, Social Media Marketing, and Google AdWords training and courses for busy marketers and businesspeople. Online search engine optimization training helps explain keywords, page tags, link building strategies and other techniques needed to climb to the top of search engine rankings for Google, Yahoo, and Bing. The teaching methodology is hands on, with live examples and discussions, taught from the convenience of each student's computer.
Contact:
JM Internet Group, Media Relations
Email. jm.internetgroup(at)gmail(dot)com
Tel. +1-510-713-2150