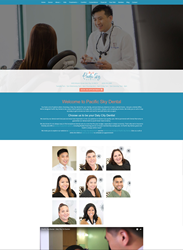 I am thrilled to be recognized by Find Local Doctors. Knowing my patients are satisfied in the quality of care they receive is the highest acclaim, says Dr. Jone of Pacific Sky Dental
Daly City, CA (PRWEB) July 27, 2017
Pacific Sky Dental, located at 6433 Mission Street in Daly City, CA 94014, is a trusted family dental practice that offers modern dentistry with a personalized and gentle approach. Dr. Raymond Jone leads the practice as a highly-respected dentist who is well trained in a variety of dental specialties. Patients can receive treatments in general and pediatric dentistry as well as restorative dentistry, cosmetic dentistry and implant dentistry. Providing a full scope of dental care to the entire family is a primary reason that Dr. Jone has been so highly rated by his patients and selected as a Top Patient Rated Dentist this year.
Find Local Doctors is a credible online directory that allows users to easily locate qualified physicians and dentists who hold favorable reputations in their community. The dentists who consistently have superior ratings across multiple online review sources are recognized each year by the Find Local Doctors directory. The 2017 Top Patient Rated Dentist award is strictly based on reviews by Dr. Jone's actual patients.
While full service dentistry is a valued benefit for patients of Pacific Sky Dental, it is just one of the many reasons why the Daly City practice is so highly rated. Dr. Jone also invests in the latest dental technology, such as digital imaging and painless injection devices, so that patients can receive a more efficient and comfortable visit. Speaking of comfort, Pacific Sky Dental also provides sedation dentistry and numerous amenities to make patients feel at home, including Netflix, warm blankets, complimentary beverages and more.
From advanced gum care and cosmetic makeovers to bone grafting for dental implants, Dr. Jone understands how to tailor dental care to each individual. He adheres to conservative techniques and minimally-invasive dentistry whenever possible. "I am thrilled to be recognized by Find Local Doctors. Knowing my patients are satisfied in the quality of care they receive is the highest acclaim," says Dr. Jone of Pacific Sky Dental.
As part of their commitment to quality dental care, Pacific Sky Dental guarantees their dental work through a valued Dental Warranty. They also accept insurance and offer flexible payment options and financing plans.
More about Dr. Raymond Jone:
Dr. Raymond Jone is a highly awarded dentist who received his undergraduate degrees from the University of Southern California and his doctorate from Columbia University in New York City. He completed his post-graduate residency with the San Francisco Veterans Affairs Medical Center. Dr. Jone goes above and beyond the state mandated requirements for continuing education, as he strives to stay up-to-date on the latest advancements in modern dentistry. Dr. Jone is also credentialed by both the ICOI and the AGD, an achievement held by less than 1% of practicing dentists.
For more information about Dr. Jone or the services offered at Pacific Sky Dental, please visit http://www.pacificskydental.com or call (650)353-5969