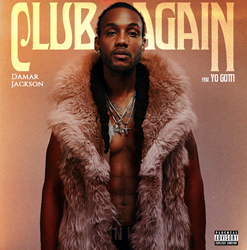 Damar says, "I was thinking about my ex and how she really had sex with another n*gga right after we broke up…so "Club Again" means I'm back single and out here living."
New York, New York; Los Angeles, California; & Atlanta, Georgia (PRWEB) July 12, 2017
R&B newcomer Damar Jackson is about to take the music scene by storm. Although, Damar has already had credited success as co-writer and co-producer for K-Camp's hit single "Comfortable," he wants the world to hear his own voice singing his hits. His single "Club Again" featuring Yo Gotti, off of his newest project Unfaithful, was inspired by a personal experience of his. Damar says, "I was thinking about my ex and how she really had sex with another n*gga right after we broke up…so club again means I'm back single and out here living. It's a celebratory song about a real life situation of me walking back into the club/single life." "Club Again" is a catchy sing-along; and is the perfect blend of R&B and Trap music, making it a modern heartbreak remedy. The single is set to release to the public on July 11th, and will be available on ITunes, Apple Music, Soundcloud and Spotify.
See the lyric video on YouTube.
The Louisiana born prodigy who began playing the drums and keys at church at the age of 9, has always strived to perfect his craft. With $300 to his name, he left Louisiana to pursue his music career as a Def Jam Records intern in Atlanta. This is where he saw his big break. Working with heavyweights such as Big Fruit, Damar ended up co-writing & co-producing K Camp's biggest hit, "Comfortable," which reached over 150 million streams. Damar is now ready to shine as a solo artist, and with his next project nearly ready for the public. Damar is already setting his sights on the future.