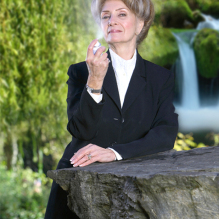 GRANTS PASS, Ore. (PRWEB) July 25, 2019
Date aired: July 22nd, 2019
Guest: Dame Dr. Effie Chow
Water Life Science® Power of Water® creator and talk radio host Sharon Kleyne wants people to use more commonsense and sign up for the Health Olympics. Qigong Grandmaster Dame Dr. Effie Chow, Ph.D., teaches the power of Qi, the basis of traditional Chinese medicine and the vital force of life itself. Together on Kleyne's internationally syndicated weekly talk radio program, The Sharon Kleyne Hour Water Life Science®/Nature's Pharma®, The Power of Water® & Your Health sponsored by Nature's Tears® EyeMist® on VoiceAmerica, they discuss Qi, breath, water and water evaporation.
"I run into people all over the world," says Kleyne, "who think they know it all, but they don't know that they begin to evaporate the moment they are born. You must drink enough water every day," Power of Water® advocate Kleyne continues, "because over-evaporation causes diseases. Water is your energy. It's your fuel. It's your Health Olympics. We're all in this together, like a membership."
Chow, known throughout the world for her activism and health care, educates listeners that Qi literally means air. Chow, who in her youth rejected the revolving door practice of western medicine and successfully crafted a practice that combines elements of western and eastern medicine, teaches that Qi is the empty force that exists for all of us to use. "Qi is breathing skin, breathing eyes, breathing energy that is breathing with the water," Chow explains. "Qi is the basis of power and energy.
Dr. Chow wants you to breathe like a baby! "Have you ever noticed how babies breathe?" Chow asks. "They breathe through their abdomens. That is nature's way. "Yet, 85% of people in the world don't breathe properly." Chow performs an exercise demonstrating how to breathe through the diaphragm. "The first thing I teach patients," says Chow, "is breath. The second thing I teach is how to drink water." Chow recommends guzzling five glasses of water as soon as you wake up in the morning to flush out all of the toxins your body has built up throughout the night.
"Water is the breath of life," says Power of Water® instructor Kleyne. Kleyne, founder and research director of Bio Logic Aqua® Research Water Life Science® and a true Power of Water® Health Olympics believer, teaches listeners to drink 8-to-10 glasses of pure water every day. "Drink, don't sip!" insists Kleyne. "Drink an entire glass for maximum absorption. Your Health Olympics is your education."
Chow and Kleyne agree that drinking enough water every day aids conditioning and helps with pain. Chow adds a prescription of 8 heart-to-heart breathing exercises and 3 big belly laughs a day. Laughter is so important! Chow and Kleyne also agree that water is more important than food. Finally, Kleyne and Chow say that a loving, caring touch is also essential.
"Hug a stuffed panda bear every day!" Kleyne suggests at the Health Olympics. "That's good!" says Chow, laughing. "Hug a friend, too, or your partner!"
If you want to breathe electrolytically, engage your Qi and enroll in the Health Olympics, listen to the program featuring Dame Dr. Effie Chow, Ph.D. and talk radio host and Water Life Science® Power of Water® educator Sharon Kleyne as they discuss breathing, Qi, water evaporation and the Power of Water®, follow this link: https://www.voiceamerica.com/episode/116309/the-power-of-qi