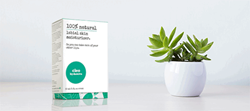 Who knew that putting on lip balm could be so much fun?!
Toronto, Ontario (PRWEB) March 15, 2017
Damiva Inc. (http://www.damiva.com) is pleased to announce the retail expansion of our vaginal dryness and feminine moisturizer product line in Canadian drugstores. Mae, the first product by Damiva, is a 100% natural vaginal suppository that launched across Canada in 2014 and is already a huge success. Damiva is now presenting Cleo, a labial moisturizer, which is launching across Canada at Rexall, Shoppers Drug Mart, and Lawtons Drugs. Cleo can be found sitting right beside Mae on the feminine hygiene shelf of your local Canadian pharmacy.
Cleopatra, the legendary Queen of Egypt, actually invented lip balm; thus she was the inspiration for Cleo by Damiva, our "lip balm for your other lips." Damiva invented Cleo in response to women asking for an external labial cream. The full story can be found here: damiva.com/whycleo
Chia Chia Sun, CEO, says, "We are a female-led Canadian company; we are driven everyday to break down taboos and help women over 40 lead happier, healthier lives by making products that we all need. Damiva's story is uniquely Canadian, and we are very proud to be expanding nationally with our second product." damiva.com/100canadian
Cleo and Mae are innovative, first-to-market feminine moisturizers that are 100% natural. They are made from pure, natural plant butters, and are also vegan, cruelty-free, chemical- and hormone-free. Damiva products are created to address and alleviate the issues that women face after childbirth, cancer, and, in particular, perimenopause and menopause. Importantly, Mae and Cleo are pH-balanced for the labial and vaginal areas.
Damiva is known for the cheeky humor used in marketing to help break the ice and get women to be more comfortable talking about menopause, vaginal dryness, painful intercourse and other often-taboo subjects. In that vein, with the Canada-wide launch of Cleo, we want women across the country to be saying, "Who knew that putting on lip balm could be so much fun?!"
Damiva Inc. (http://www.damiva.com) develops, manufactures and distributes innovative natural products for women over 40 and sells coast-to-coast across North America. A pioneer in the menopausal health space, Damiva was founded to create new products that address important medical needs.