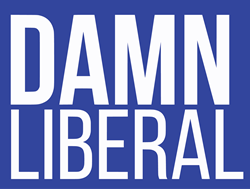 Join the campaign and boldly and proudly reclaim the 'liberal' label with us!
Dallas, Texas (PRWEB) April 20, 2016
"Liberal" has been demonized for far too long. DamnLiberal.com is committed to reclaim the liberal label with a simple message: the word "liberal," by definition, stands for much of the good in humanity! Liberals have empathy, tolerance, open minds, and aren't afraid to show it.
This is a call to all Damn Liberals out there, it's time to come out of the closet and be proud to be a liberal!
Empathy and tolerance for others, freedom from bigotry or prejudice, a broad-minded world view not bound by traditional thinking, these are the traits of a liberal. DamnLiberal.com is launching an ongoing social media campaign to convey this message and amplify the voices of liberals throughout the country.
"After decades of the word 'liberal' being hurled as an insult, we are committed to reclaim the label. Why hide the fact that you're probably a kind and generous person that has empathy for others? Join the conversation, engage with others on our social media channels and help us proudly reclaim the word 'liberal!'" -Mercedes Burton, Spokesperson for Damn Liberal
This message might even have an impact on those that have 'followed the crowd' in saying they are a conservative.
"In a thought-provoking 2013 paper, Christopher Claassen, Patrick Tucker, and Steven S. Smith of Washington University in St. Louis note that although most Americans prefer the term 'conservative,' those same Americans are 'remarkably consistent' in telling researchers that they prefer liberal policies." - Peter Beinart, "Liberal is Good," The Atlantic, Feb 2014
Liberal has been used as an insult for the purposes of political fear-mongering for many years. At the 1988 Republican Convention, Ronald Reagan stated, "The masquerade is over; it's time to ... use the dreaded 'L' word, to say the policies of our opposition ... are liberal, liberal, liberal!"
DamnLiberal.com is here to change that, because it's a good thing to be a Damn Liberal!
Now is the time to stop letting the fear mongers win; let your "liberal" flag fly!
Oh, so you're feeling better about the "dreaded 'L' word" now, huh? Well, why not sport it on your chest? We have lots of Damn Liberal merchandise available today, so you can wear your liberal label with pride any day of the week! Get your Damn Liberal shirts and goodies at http://www.DamnLiberal.com today!