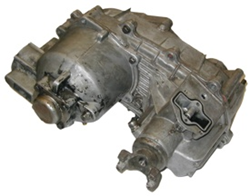 The Spicer 300 case assemblies we now have in stock are sourced through our auto salvage partners in the United States and Canada
Chicago, IL (PRWEB) October 29, 2015
The ¼-ton Jeeps produced in the early 1980s were regarded as some of the most high quality vehicles produced by AMC before the takeover by the Chrysler corporation. The Auto Pros company is announcing its re-stock of the Dana 300 transfer cases that are equipped for installation in the early Jeep 4x4 vehicles. Details about this replacement inventory is posted at http://autoprosusa.com/dana-300-transfer-case.
The units in stock are the OEM 6-bolt models that were featured in the 1980, 1981, 1982, 1983, 1984, 1985 and 1986 Jeep SUVs. These cast iron models include the regular shifter that works with the 26-tooth spline gears. CJ SUV owners or auto mechanics who require a transfer case in used condition seek to benefit from the updated APUSA inventory.
"The Spicer 300 case assemblies we now have in stock are sourced through our auto salvage partners in the United States and Canada," said a rep at the AutoProsUSA.com company.
While some companies provide rebuilt 300 case assemblies, the editions that are back in stock are the original models removed from 1980s era AMC Jeeps. The units have been tested with the SR4, T176, T4 and T5 transmissions to provide the most compatibility with the various CJ sport utility vehicles produced.
"The re-stocked components that we are providing through our inventory will include our standard parts warranty package with all orders," the rep said.
The APUSA company telephone ordering line at (989) 891-9212 remains available for consumers who need assistance during the order placement process. All Jeep parts experts are available seven days a week to supply price or stock data.
About AutoProsUSA.com
The AutoProsUSA.com company is one of the respected portals to find, explore, buy and or compare automotive parts on the Internet. The company works with top-tier junk yards to list in stock inventory for consumers. The AutoProsUSA.com company website is updated through a digital system to keep stock data correct for consumers.