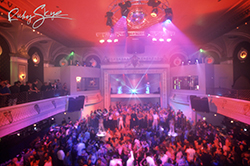 San Francisco, CA (PRWEB) July 30, 2014
Ruby Skye is once again proving why they are San Francisco's no. 1 concert venue by hosting an exciting DJ set on Aug. 9. Capital Cities, a Los Angeles duo, will take the stage for night filled with great music and a fantastic performance.
Capital Cities is made up of composers Ryan Merchant and Sebu Simonian. They are joined by bassist Manny Quintero, trumpeter Spencer Ludwig, guitarist Nick Merwin and drummer Channing Holmes. The indie electro band was formed in 2010, and released the song "Safe and Sound" on their independent EP in 2011.
"Safe and Sound" quickly became a worldwide sensation, going multi-platinum in the U.S., Canada, Germany, Mexico and more. It reached number one on alternative radio in the U.S. and number eight on the Billboard Hot 100. For more information about Capital Cities, check them out at http://capitalcitiesmusic.com/.
Ruby Skye is known for playing host to some of the world's top talent, and Capital Cities is no exception. The band is sure to put on quite a show, and fans, guests and people interested in having a good time should not miss out on this event.
Tickets are on sale now and range from $30-$45. The event starts at 9 p.m. on Saturday, Aug. 9 at Ruby Skye, located at 420 Mason St. San Francisco, CA 94102. A VIP booth and bottle service will be available during the event. To purchase tickets, visit https://www.eventbrite.com/e/capital-cities-dj-set-tickets-12280498301.
At Ruby Skye, patrons are always in for a fantastic night, and the Capital Cities DJ set is sure to be a blast. Ruby Skye looks forward to presenting Capital Cities for a special DJ set and encourages everyone to join them for this exciting evening.
About the company:
Ruby Skye is the premier San Francisco nightclub & concert venue. It is also one of the most-visited Bay Area clubs and hosts both local and international DJs who enjoy performing San Francisco house music, electronic music and more. The 15,000-square-foot historic building housing the club (est. 1890) offers four distinctively different, luxurious areas for entertaining that can be combined to accommodate up to 900 guests. It also features "414 Boutique Lounge," an elegant and private lounge where guests can enjoy fine cognac in Old World elegance. While in San Francisco, please also visit Slide nightclub, which is right next door to Ruby Skye. Slide is a refurbished speakeasy initially built during the Prohibition era where patrons actually used a slide to get from the businesses front (a convenience store) to the party downstairs.