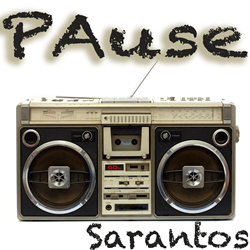 What do we all share in common? We all love the summer and we all also love our favorite song.
Park Ridge, IL (PRWEB) July 11, 2017
Sarantos new pop dance music video "PAuse" encourages fans from all around the world to listen to their favorite song all summer long.
Summer is here in full bloom. Every single person on the planet has a favorite song, one they play repeatedly. Studies continue to analyze what makes a hit song a hit. A catchy chorus, infectious melody, inspired lyrics, timeless beats, the list goes on and on. To the human ear and mind, though, something just clicks. You just know it when you hear it, don't you?
Sarantos new dance/EDM song "PAuse" tackles this topic in a fun and unique way. So of course, shouldn't the new music video do the same thing?
"This pop EDM summer song is focused on you playing your favorite song over and over, again and again," says Sarantos. "I think I remember almost every summer when I was growing up. What a fun carefree time. But the most vivid thing about them was always the summer song that took it by storm! In my new music video, I wanted to focus on the diversity of my thought – the many cultures from all over the world. What do we all share in common? We all love the summer and we all also love our favorite song. We love playing it repeatedly all summer long while we dance to its groove. Should this summer be any different? I say no! I'm listening to 'PAuse' all summer long..."
Sarantos and fans chose this charity for this song - Pause. They work with women who have experienced or are at risk of repeat removals of children from their care. They aim to break this cycle and give women the opportunity to reflect, tackle destructive patterns of behavior and to develop new skills and responses that can help them create a more positive future.
Sarantos' unique sound has been best described by industry insiders as an "emotionally powerful vocal style masterfully united with music that is a fusion of classic '80s rock blended with modern soft rock and pop music."
Since 2014, Sarantos has won over 38 awards with Akademia LA Music and Beat 100, while also being nominated for the International Music & Entertainment Awards and the Hollywood Songwriting Awards. Even without ever using a professional music studio, label, ad agency or radio promoters, "Dreamer" & "What If I Never See You Again" have spent many months in the top 200 on the majors list in the US for radio airplay according to the Digital Radio Tracker Top 200 charts. On the independent charts, Sarantos has hit the top 10 twice.
*Because Sarantos wants music shared throughout the world, fans can always find downloadable songs, lyric sheets, videos and books on the website. Fans can sign up for the email list to get the inside scoop first and exclusive content available nowhere else.
Facebook: http://www.facebook.com/Sarantosmelogia
Spotify: play.spotify.com/artist/0fSzbfDxSHL10T1ryPsRLQ