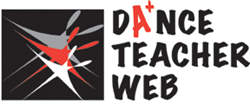 We are thrilled to be able to offer dance teachers and dance studio owners a chance to let their voices be heard and to share their expertise!
Fairfield, CT (PRWEB) March 12, 2014
Dance Teacher Web the leader in dance teacher education has launched a new blog. Features for dance teachers include articles on teaching tips, ideas on how to increase their earning power and how to keep their creativity flowing all year long. Dance Studio Owner business topics include secrets to marketing, finding the right people for their school and how to turn their customers into raving fans.
Each month a spotlight video interview with some of the top dancers and teachers from Broadway to Ballet will be presented. Videos with teaching tips are also on tap for all different genres of dance.
Blog Chief Editor, Jessica Rizzo-Stafford says, "The new look is very cool, streamlined and we will be tackling the topics and issues relevant to the dance educator. We look forward to connecting with our readers each week on the things we all think about on a daily basis as dance teachers & studio owners."
One of the exciting new blog highlights that will be launched next month to the readers will be the opportunity to be a guest blogger. Members of Dance Teacher Web will have a chance to submit their articles to be one of the featured guest writers. This will be a wonderful way to help build the dance educators network. Details will be posted later this month.
"We are thrilled to be able to offer teachers and dance studio owners a chance to let their voices be heard and to share their expertise! Every guest blogger will have their headshot, bio and website posted promoting their own SEO ranking. We are eager to help, encourage and promote the hard working dance teacher," adds Dance Teacher Web founder Steve Sirico
The Dance Teacher Web Blog has already created a buzz in the dance community with thousands of views from the dance teacher all over the world.
"Our goal is to inspire and to have thought provoking articles, lessons, news, videos, quick tips, tools & fun extras to keep our readers motivated & moving forward all year long," adds Rizzo
Dance Teacher Web in the only online resource with over 600 videos and articles. Plus dance studio owner members receive expert advice in all things to do with running a successful dance studio. The business tools and forms will help studio owners streamline their entire operations. The website now has more than 1300 members and 60,000 Facebook fans from around the world.
Dance Teacher Web Live Conference and Expo will be held July 27-30 in Las Vegas at the beautiful Red Rock Resort & Spa. Every summer over 500 teachers attend this one of a kind event to learn and recharge with their peers.