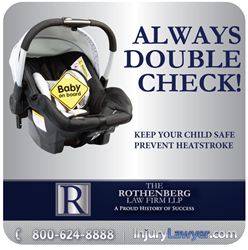 Philadelphia, PA (PRWEB) July 31, 2014
To further educate the public, The Rothenberg Law Firm LLP would like to provide the following safety information regarding leaving children in hot vehicles:
Leaving children alone in a car can have deadly consequences. Because a child's body can heat up three to four times faster than those of adults, leaving children alone in a hot vehicle puts them at extreme risk for heatstroke, injury, and even death.
Statistics of Children Left Alone in a Car
According to the National Highway Traffic Safety Administration (NHTSA), during 2013 alone, 44 children in the U.S. died after being left unattended in a motor vehicle. Data from Safe Kids Worldwide, a nonprofit child safety organization, reveals that an average of 38 children die annually from heat-related deaths after having been left alone in a car. Furthermore, 14% of parents admitted to leaving their infants or toddlers unattended in a parked vehicle.
Heating Dynamics of Cars
These statistics are particularly alarming given the fact that temperatures inside a car can reach dangerously high levels in a matter of minutes, even with windows rolled down two inches and even under mild temperatures. This is due to the unique heating dynamics of motor vehicle windows, which when left in an abundance of sunlight, act as catalysts for rapid temperature increases. Moreover, as AccuWeather Senior Meteorologist, Alex Sosnowski, reports, "If a car is in the sun and the windows are up, temperatures can climb 40 degrees higher than the outside temperature." The darker the interior of a vehicle, the faster it heats up, with dashboards and steering wheel temperatures potentially hitting 200 degrees when sitting idle in the sun.
Children's Heatstroke
Jan Null, Certified Consulting Meteorologist at San Francisco University, explains that heatstroke occurs when body temperatures reach 104 degrees Fahrenheit; at this point the body stops perspiring and enters survival mode. At 107 degrees, cells and internal organs begin to fail, with the possibility of death occurring shortly thereafter. According to Null, "If a child is small and on the sunny side of the car, death can occur in 15 minutes or under."
Null's research further shows that most of these deaths result from caregivers forgetting a child in a car. Sadly, almost all of these fatalities could have been prevented.
Child Safety In and Around Motor Vehicles
To increase education and awareness of the potential dangers of children left alone in a vehicle, organizations such as KidsAndCars.org are working diligently to pass state laws, propose federal policy changes, and redesign motor vehicles to make them safer for children. Currently, only 19 states have laws against leaving children unattended in a car. With increased awareness and education, hopefully, more states will enact laws to protect children and help reduce or eliminate this preventable cause of injury and death. With children dying each year from heatstroke, NHTSA has launched a national ad campaign: "Where's Baby? Look Before You Lock." This radio and Internet initiative, which runs from May through September 2014, aims to highlight the importance of this issue for parents and caregivers.
Child Vehicle Death Prevention Tips
To keep children safe from injury and heat-related vehicle deaths this summer, follow these tips recommended by Safercar.gov and KidsandCars.org:
•Never leave a child unattended in a vehicle, even with the engine running, the air conditioning on, or windows partially rolled down.
•Make a habit of checking your vehicle before locking the door and walking away.
•If you are missing a child, check your vehicle first.
•As a visual reminder that there is a child in the car, purposely place an item such as your purse, briefcase, or cell phone in the back seat or next to the child's car seat.
•Place a reminder in the front seat that there is a child in the backseat, i.e. a stuffed animal.
•Ask the child's care provider (i.e. parent, daycare worker, or teacher) to call if the child does not show up when expected.
•Call 911 (or the local emergency number) immediately if you see a child left alone in a vehicle.
•Visit http://www.SaferCar.gov/heatstroke to learn more about NHTSA's "Where's Baby? Look Before You Lock" campaign.
For further information, or to speak with an attorney at The Rothenberg Law Firm LLP, please contact 1-800-624-8888 or visit InjuryLawyer.com.