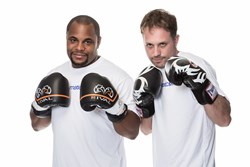 I'm very excited to be a part of the Automatic MMA and Nutrie Family - Daniel Cormier
Houston, Texas (PRWEB) October 24, 2013
A leaner and meaner Cormier weighed in 24 lbs less on October 18th at 224, thanks in part to the Automatic MMA program by Nutrie. It was clear that Daniel commanded the cage and was virtually untouchable by Nelson with his newly found speed and agility.
In conjunction with starting the Automatic MMA program four months ago, Cormier had been sparring on a regular basis with UFC heavyweight champion Cain Velasquez. The goal now is to reach the 205 level in order to move into the Light Heavyweight division and challenge Jon Jones for the title.
"I'm very excited to be a part of the Automatic MMA and Nutrie Family. Aaron Parkinson and the company have developed the Automatic MMA program and a line of products that have been instrumental in my shedding weight and competing in my natural weight division," stated Cormier. "I'm very excited to be on this journey and I look forward to all my fans and friends taking it with me".
To join DC and win prizes for your own weight-loss visit - GET FIT WITH DC
About Automatic MMA and Nutrie:
Automatic MMA is the first program of its kind. It combines a simple, easy-to-follow program that syncs with your iPhone or Android device and tells you when to do something and how to do it. You just plug it in and let things happen, automatically.
Founded in 2012 with headquarters in Scottsdale, Arizona, Nutrie is a health and wellness company that develops and markets products and programs for consumers to meet their health goals. The company is privately held.
The weight loss results and other health related experiences are not typical, are self-reported, and are applicable only to the individual(s) and do not reflect the results that a customer may achieve. For optimal results, products are recommended for use in conjunction with the Automatic MMA program.
Please see Nutrié¹s Health Disclaimer located here for more details.