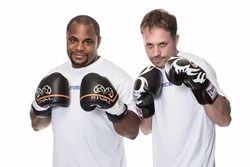 "I'm very excited to take this journey and I look forward to all my fans and friends taking it with me."
- Daniel Cormier
Scottsdale, Arizona (PRWEB) September 12, 2013
"I'm very excited to be a part of the Nutrie Family. Aaron Parkinson and the company have developed a line of products that's going to be instrumental in my shedding weight and competing in the natural weight division," stated Cormier. "I'm very excited to take this journey and I look forward to all my fans and friends taking it with me. This is an exciting time in my life and I am glad that Jervis Cole of Automatic MMA is giving me the opportunity to do this and take you all on this journey with me."
Cormier is a former two time Olympic wrestler and American mixed martial artist. He began his professional MMA career on September 25, 2009, defeating Gary Frazier. He is undoubtedly one of the greatest wrestlers in the MMA heavyweight division, if not the best and is undefeated in his MMA career. He is currently ranked as the #2 heavyweight in the world and is signed to the Ultimate Fighting Championship, in the heavyweight division.
Cormier recently joined the Nutrie kickoff regional training in Fresno, California, this past June, where he co-hosted a charity workout with Kim Lyons in Chuckchansi Park. On September 21st he will be joining Lyons again at the Hyatt Regency O'Hare in Chicago for another exciting Automatic Body, Celebrity workout. Details can be found on the Nutrie Events page.
Everyone at Nutrie is pumped to have Cormier on board and excited to see him take the brand into the cage!
Learn more at http://www.getfitwithdc.com.
About Nutrie
Founded in 2012 with headquarters in Scottsdale, Arizona, Nutrie is a health and wellness company that develops and markets products and programs for consumers to meet their health goals. The company is privately held.