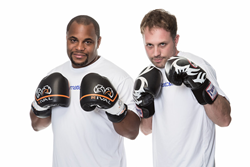 I'm very excited to be a part of the Automatic Body and Nutrie family. - Daniel Cormier
Las Vegas, Nevada (PRWEB) May 27, 2014
DC got straight to work on Saturday night nailing 3-for-3 on takedowns and showing Hendo that he would be king of the mat. According to official stats, Cormier maintained control over Henderson for 11:05 of the fight and ultimately in the third, where he took it home, choking out Henderson for the submission.
This marks Cormier's second win in the light heavyweight division, giving him an overall record of 15-0-0-following victories over Pat Cummins, Roy "Big Country" Nelson, Frank Mir, Josh Barnett and Antonio "Big Foot" Silva.
Cormier is hopeful that defeating Henderson will be the last hurdle he has to cross in order to get his shot at a title match with Jon Jones for the light-heavyweight championship. In an interview with Fox Sports DC called out Jon Jones "No matter where you go boy, I'm coming," he said. "You better hurry because I'm getting better."
After dedicating himself to the Automatic Body program last year, Cormier is now comfortably fighting in light-heavyweight at 205 lbs. At UFC 170, DC handily showed Pat Cummins he is a force to be reckoned with and sent Pat packing in 1:19. Cormier had cut down his weight in a notable effort to avoid fighting his good friend and training partner, Cain Velasquez, in UFC's heavyweight division.
"I'm very excited to be a part of the Automatic Body and Nutrie family. Aaron Parkinson and the company have developed the Automatic Body program and a line of products that have been instrumental in my shedding weight and competing in my natural weight division," stated Cormier. "I'm very excited to be on this journey and I look forward to all my fans and friends taking it with me."
To try out DC's secret weapon, visit http://www.nutriesample.com today!
About Automatic Body and Nutrie:
Automatic Body is the first program of its kind. It combines a simple, easy-to-follow program that syncs with your iPhone or Android device and tells you when to do something and how to do it. You just plug it in and let things happen, automatically.
Founded in 2012 with headquarters in Scottsdale, Arizona, Nutrie is a health and wellness company that develops and markets products and programs for consumers to meet their health goals. The company is privately held.
The weight loss results and other health related experiences are not typical, are self-reported, and are applicable only to the individual(s) and do not reflect the results that a customer may achieve. For optimal results, products are recommended for use in conjunction with the Automatic Body program.
Please see Nutrié¹s Health Disclaimer located here for more details.