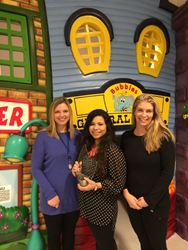 I am so pleased that this award goes to someone who had extraordinary strength and empathy.
Newtown, Connecticut (PRWEB) February 22, 2014
The Learning Experience (TLE) is thrilled to announce that the TLE Newtown's Center is the winner of its annual Outstanding Achievement in Community Service Award. TLE is an early learning academy for children six weeks to six years old and is one of the country's fastest growing academies.
On January 23-27, 2014 during TLE's annual convention, owner of the TLE Newtown franchise, Danielle Van Riper, was honored for her work throughout many philanthropic events that benefited the local community and many charitable organizations. There were 120 centers nationwide that were against TLE Newtown location. In the end, there were only two centers honored with the Outstanding Achievement award.
"The Outstanding Achievement in Community Service Award is for those centers that offer the best support within a community by implementing a project worthy of recognizing and representative of the goodwill of the TLE Brand," said Richard Weissman, President of TLE. "I am so pleased that this award goes to someone who had extraordinary strength and empathy."
TLE partnered with Make-A-Wish to develop the nation's first-ever preschool philanthropy curriculum. It concentrated on developing the required skills to properly effect social change by including community work into the day-to-day lives of preschoolers through repeated acts of charity in local communities.
As part of this program, TLE Newtown recently granted their first "Wish" through Make-A-Wish to a little girl named Aurora who has cancer. Aurora's wish was to see Mickey Mouse. Ms. Van Riper and her team worked hard making and selling stars, hosting bake sales, and running profitable lemonade stands.
"After a year's worth of hard work and dedication we were able to make little Aurora's wish come true," said Ms. Van Riper. "With the help of my team, our preschoolers and the local community, TLE at Newtown was able to send her to Disney World!"
With the help of Grace The Greyhound and Charity Chihuahua, the loveable and huggable dog mascots for philanthropy at TLE, children learn that it is not how big or small you are, it is the size of your heart that matters. Through animation, classroom activities and participatory songs, Grace and Charity introduce children to topics like the value of helping others, volunteering and donating.
###
About The Learning Experience
The Learning Experience (TLE) is the nation's fastest growing early learning academy for children ages six months to six years old. With a greater national emphasis on educational development during the most crucial years of a child's growth, a prominent focus has been placed in programs that advance the scholastic preparation. TLE prepares children academically and socially via innovative scholastic and enrichment programs such as L.E.A.P curriculum, a cutting-edge proprietary approach to learning which has 90 percent of TLE children graduating preschool reading at a Kindergarten or greater level. To complement the academic portion, various enrichment programs crucial to advancing learning and overall balance will be discussed and demonstrated, such as philanthropy, baby yoga, music, physical fitness, manners and etiquette, and Spanish language.
For more information, please visit http://www.thelearningexperience.com.
PR Company: Nexteppe (http://www.nexteppe.com):
Nexteppe provides dealerships with a dedicated support team and a full suite of all-in-one products including InControlPro, Comment Builder and ProSHOTS. Take your dealership inventory marketing and management to the next level with Nexteppe. Learn more about how we can enhance your website's design and enhance your inventory marketing and management by visiting us on the web or calling our New York office at 888-572-8892.