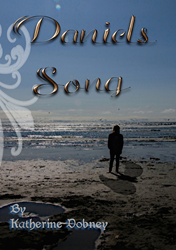 Emotions held closely from a lifetime of struggles, of love and lose, of abuse and triumph gave way to the birth of Katherine Dobney's first book, 'Daniels Song'.
Astoria, OR (PRWEB) February 11, 2016
Inspiration comes from ones surroundings as well as from within. The grandeur of the Pacific Northwest has helped many find something unexpected. For new author Katherine Dobney, the sights and sounds struck deeper than she could ever have guessed. Though she had created art in many forms she never saw herself as talented. Limited schooling made the written word seem like a hurdle that could not be overcome. In spite of this Katherine Dobney had a story flowing through her mind. Like the waters of the lower Columbia River that small thought mixed with emotions and started to spill out onto paper. Several words became several pages steadily filling a journal that said Believe on its cover. Technology in the form of a computer and inspiration found on the wind swept beaches helped her find those illusive thoughts and bring them all together. Emotions held closely from a lifetime of struggles, of love and lose, of abuse and triumph gave way to the birth of her first book, 'Daniels Song'.
Everyone needs a guardian angel now and then. When life has battered one down it's hard to know whether angels are still with us, watching over us. In her book, Katherine Dobney takes the reader to a far away place in her mind where Daniel came to life. 'Daniels Song, unlike most books, presents a unique two-sided look at how humanity as well as an angel needs hope.
When the angel Daniel is sent to Earth as a result of his misdeeds, he is instructed to take care of the suffering children. For over a thousand years this is his life with no chance of returning to heaven. Daniel and his family of angels on Earth carry on watching over mankind from their northwest home. One day Daniel is tasked with helping a young woman during a terrible tragedy. Unlike the dying children he has nurtured, this soul is alive. Hope is not just her name but also her destiny as she teaches Daniel lessons he never expected here on Earth. Her healing becomes part of his healing until a lost angel comes into their lives. Alexander has a history with Daniel that must be addressed but Daniel goes a step too far in his efforts to protect Hope. The judgment for his actions could only be decided in heaven. The relationships built in a family from Earth and a family from heaven will lead Daniel down a path he was never expecting.
'Daniels Song' is listed as young adult reading but it is meant to touch the heart of any age. 'Daniels Song' is published by eBookIt.com, and is currently available in e-book format from online retailers including Amazon.com, BN.com and Apple's iBookstore.
Contact
Katherine Dobney
danielssong1(at)gmail(dot)com
503-861-2021
About the Author
Katherine Dobney has always loved arts and crafts, and usually felt the need to create something. She never thought that something would include writing a book. Most of the time she can be found behind a sewing machine thinking of some new design. Or behind the lens of a camera capturing images then turning them into digital artwork. After 30 years of military family moves she settled in Hammond, Oregon with her husband, Mark. The magic and beauty of the Long Beach peninsula and the power of the mighty Columbia River have been part of her surroundings with its moss-covered trees, ferns, flowers, and multi-shaded green landscape. Katherine spent many hours along the beaches inspired by the crash of waves, sounds of foghorns and taste of salt air as she formed and followed the journey that took her to 'Daniels Song'.
About eBookIt.com
Since 2010, eBookIt.com (based in Sudbury, Massachusetts) has helped thousands of authors and publishers get their books converted to ebook format, and distributed to all the major ebook retailers, including Amazon.com, Barnesandnoble.com, Apple iBookstore, Kobo, Sony Readerstore, Ingram Digital, and Google eBookstore.