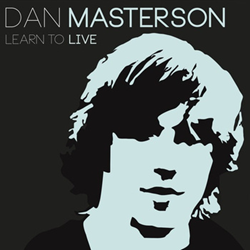 "Intriguingly special, totally deserving of ears, and highly recommended." - Goldmine
Boston, MA (PRWEB) April 30, 2014
Dan Masterson brings an intense emotional depth to his upcoming sophomore release, "Learn To Live." From a sweet, crooning serenade, to a powerful belt, Masterson is a performing songwriter with dynamic vocal presence, unusual songwriting intuition, and captivating performance energy. While drawing on his country and singer-songwriter roots, Dan seeks to push the boundaries of piano-centric pop and rock. Masterson constructs his songs with a high level of soul and sentimentality, drawing the listener into each song and inspiring a mutual emotional understanding. Masterson's debut release, The Father Time EP, led him to a 10-week summer tour in the United Kingdom, where he honed his solo performance in front of fresh audiences, including festival-goers at the famed Edinburgh Fringe.
"Learn To Live is about learning to live with your faults," states Masterson, "...learning to live without someone who you fought in vain to keep in your life, learning to live with the stubborn persistence of love, for better or worse." He expertly conveys this theme through a diverse display of songcraft and musicianship. Masterson creates vibrant, upbeat songs, such as the title track, "Learn to Live," and the following cut, "Twice," which carries undertones of country-inspiration. "Fine," Masterson's most powerful song, exemplifies his compelling story-telling ability, as well as his excellent vocal range and strength.
Self-produced, Learn To Live was mixed and mastered by five-time Emmy award winner Andy Mitran. From the first track to the last, there is no lull, no filler, and the songs flow seamlessly from one to the next.
You can learn more about Dan Masterson at http://www.danmastersonmusic.com.
For more information, images, or to arrange for an interview, please contact Melissa Zeigler at Powderfinger Promotions: melissa(at)powderfingerpromo(dot)com.
Powderfinger Promotions–Independent Radio Promotion and Publicity. Since being founded in October 1994, Powderfinger has come to be regarded as a top indie radio promotion and publicity firm with ties across North America.