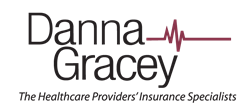 Through the good work of Matt and several other of our key partners in the room, we have emerged [as] #2 writer in the state with $65M in premiums last year.
Delray Beach, FL (PRWEB) March 20, 2017
Matt Gracey, the CEO of Danna-Gracey, South Florida's leading provider of insurance coverage for healthcare providers, received the Buchman Award for extraordinary achievement in the healthcare liability industry at a ceremony in New Orleans, LA on September 12, 2016. The event was hosted by the MedPro Group to bring together and recognize national Key Distribution Partners.
The Buchman Award is presented annually to a Partner who has made a significant positive contribution in the healthcare liability insurance field and embodied the spirit of MedPro's core values in serving and providing solutions for the healthcare community.
"Through the good work of Matt and several other of our key partners in the room, we have emerged [as] #2 writer in the state with $65M in premiums last year," said Eric Clark, Vice President - Southeast, Mid-Atlantic, and Dental Leader of the MedPro Group, during the presentation of the award. "The reason that I nominated this year's winner for the award, though, wasn't just about premium production, but how his agency has also provided value to both his community of Delray Beach and the healthcare profession in Florida."
Gracey's contributions include developing a unique business strategy that provides value to the healthcare community and instituting significant programs – including specialty organizations, county medical societies, Accountable Care Organizations, and others. As a founding member of the Community Redevelopment Agency in Delray Beach, he helped battle crime and zoning issues to create a safe downtown for restaurants, art galleries, a world class tennis center, and other facilities.
About the Buchman Award
In 1899, Dr. A.P. Buchman, a practicing physician in Fort Wayne, Indiana, helped father a law through the state legislature making possible the organization of insurance companies to cover malpractice hazards. Out of this legislation was born the creation of medical malpractice insurance, and with it, the company that is known today as MedPro Group.
Over 100 years later, the award salutes MedPro's founding father, Dr. Buchman, and his vision in providing "solutions" for the healthcare community – a vision that lives on today within MedPro Group and its top appointed agents and brokers.
About Danna-Gracey and MedPro
Danna-Gracey is an independent insurance agency with a statewide team of specialists dedicated solely to insurance coverage placement for Florida's doctors and healthcare providers, including medical malpractice, medical facilities' workers' compensation coverage, physician and employee benefits, and PEO (Professional Employer Organization) services. The firm has an A.M best rating of A++ and it is a proud partner with MedPro, the oldest professional liability insurance carrier in the United States with more than 70,000 physicians insured nationwide.
More information about Danna-Gracey can be found at http://dannagracey.com/
For more information on the MedPro, please visit https://www.medpro.com/