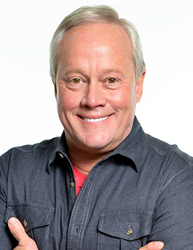 Homeowners need to think about skill level, and how much time and money a project requires before deciding if DIY is the right choice.
(PRWEB) May 24, 2016
Millions of homeowners have jumped on the do-it-yourself train, tackling projects on their own in an effort to save money. But when it comes to home improvement, some things are just better left to the pros. So how can a homeowner differentiate between the two? Home Improvement Expert Danny Lipford provided answers earlier today in a nationally televised Satellite Media Event, "Do-It-Yourself or Hire-It-Done?"
Broadcasting live from Mobile, AL, Lipford suggested a variety of outdoor projects do-it-yourselfers can easily tackle such as basic landscaping, cleaning and re-staining a deck, and even simple repairs. "There are so many types of kits on the market these days that make it easier than ever for homeowners to tackle repairs on their own and experience the satisfaction of their accomplishments – all while saving a little money," says Lipford. He introduced viewers to one such kit from Homax, called the Easy-Gate, which includes everything DIY-ers need to repair and reinforce a sagging gate.
Turning attention indoors, Lipford was joined by his daughter and co-host of Today's Homeowner TV, Chelsea Lipford Wolf, to discuss some interior projects that are DIY-friendly. Wolf says tiling a kitchen backsplash or small accent area, for example, is great for first-timers. It's the perfect type of project to enhance a space and help homeowners gain confidence in trying something new without being too ambitious.
"As a first-time homeowner, I've learned a lot by making small improvements to my own house," says Wolf. "I'm really impressed with how manufacturers have responded to the DIY market, offering homeowners a variety of options for taking on their own projects." She introduced viewers to SimpleMat® and Fusion Pro® – two professional grade options from Custom Building Products that have DIY-friendly features. SimpleMat® is a double-sided adhesive panel that replaces traditional thin-set mortar or mastic adhesive. With no drying time, tiles are ready to apply and grout immediately. Fusion Pro® is also helpful for amateur tilers since it comes ready-to-use straight from the tub; no mixing or sealing required.
Rounding out the media event, Lipford discussed home improvements that should be left to professionals, such as electrical wiring and major plumbing. Heating and cooling units are another area where homeowners should seek professional assistance. "These areas of the home," says Lipford, "require specialized training, and if attempted by a novice can often lead to mistakes, or worse, injury. The last thing you want to do is set yourself up for even costlier repairs down the road by taking on a job that is beyond your skill level and expertise."
Lipford suggests calling in an expert from Carrier to evaluate a home's HVAC needs, both for new installation or for regular maintenance. Carrier experts are trained to check for leaks in ductwork, ensure the system is running at peak efficiency and even test indoor air quality. They are also able to share the latest advances in home comfort technology for homeowners who may need to replace an existing system. The Carrier INFINITY® system, for example, runs on a two-stage compressor which allows it to maintain optimum comfort and energy efficiency.
Lipford connected with 20-25 national and regional TV and radio hosts during the "Do-It-Yourself or Hire-It-Done?" media event, reaching over 15 million viewers throughout the country. The broadcast-ready clip from the event is available for download and media use.
About Danny Lipford and Today's Homeowner
As a contractor for 37 years, Danny Lipford is one of the most respected and sought-after names in the home improvement industry. He has made more than 160 national television appearances and is an expert source for hundreds of popular magazines and websites each year.
Today's Homeowner is a national, multi-media home improvement brand anchored by the Emmy-nominated television show, Today's Homeowner with Danny Lipford, airing on 214 stations across the country and reaching 1.75 million viewers each week. The brand also includes a weekly syndicated radio show and radio features airing on more than 160 stations across the U.S. and the brand's website, TodaysHomeowner.com, drawing over 1.8 million unique monthly viewers.