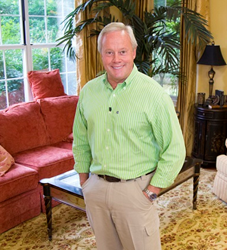 People today have more options that ever to add easy, affordable products and features to their homes to guard against fire.
Mobile, AL (PRWEB) October 07, 2015
Danny Lipford, home expert and host of the nationally syndicated Today's Homeowner TV and radio programs took to the airwaves yesterday in a nationally televised Satellite Media Event to share fire safety and energy-efficiency tips with homeowners. The media event, titled "Watch What You Heat," was broadcast live from a home in Mobile, AL.
With home fires accounting for 3,000 deaths, 15,000 injuries and $7 billion in damages annually*, consumers are looking for ways to better protect themselves and their homes. During the media event Danny covered basic fire-safety tips for every homeowner including:

Storing combustible materials away from heat sources
Having an annual furnace and chimney inspection
Replacing smoke and carbon monoxide alarms older than 10 years
Danny focused on the key message that technology can save lives. "Manufacturers have really embraced modern technology and are responding to consumers who are concerned about safety," he commented. "People today have more options that ever to add easy, affordable products and features to their homes to guard against fire." Danny advised those building or remodeling to incorporate fire-resistant materials into their projects. "Since they are designed with special fire-resistant properties, adding stone wool insulation or specialty drywall to your home can provide another layer of protection. When a fire does occur in the home, these materials delay its spread, offering families precious added time to escape to safety."
Danny also featured safety products that utilize wireless networks to keep homeowners connected to their homes, even when they are away. He discussed the benefits of installing remote monitors and cameras designed to track activity in the home and notify homeowners of any changes via a mobile device.
In addition to giving fire-safety advice, Danny offered practical tips on one of his most popular topics – energy efficiency. He noted, "People are looking for any opportunity to keep more money in their wallets these days. Putting a few easy strategies in place to increase a home's energy efficiency is a worthwhile investment that will deliver savings for years to come."
Danny suggested consumers focus on the two largest energy culprits in the home – the heating and cooling system which uses 55% of a home's energy load, and the water heater, using 13%. He explained that 40% of a home's energy loss takes place through the attic and recommended installing additional insulation and an attic stair cover. To address the water heater, Danny recommended replacing the appliance if it is 10 years or older. "As water heaters age, they become less and less efficient," he said. "If a water heater does need to be replaced, propane is a good option to consider for its efficiency, ease of installation and environmentally friendly features." Danny pointed viewers to a quick online tool they can use to evaluate their current water heater and investigate options for an upgrade or replacement at KnowYourWaterHeater.com.
The Satellite Media Event reached 15 million people and included national sponsors Kidde, ROXUL and the Propane & Education Research Council. To obtain a video clip from Danny's "Watch What You Heat" media event to share with your audience, visit Today's Homeowner to download, or contact Stephanie Greenwood at 251.478.3345 x110 / stephanie(at)dannylipford(dot)com.
About Danny Lipford
As a contractor for 36 years, Danny Lipford is one of the most respected and sought-after names in the home improvement industry. He has made more than 160 national television appearances and is an expert source for hundreds of popular magazines and websites each year.
Today's Homeowner is a national, multi-media home improvement brand including Danny's Emmy-nominated television show, Today's Homeowner with Danny Lipford, airing on over 205 stations across the country and reaching 1.75 million viewers each week. His weekly syndicated radio show by the same name and radio features air on more than 160 stations across the U.S. and his website, TodaysHomeowner.com, draws over 1.8 million unique monthly viewers.
*National Fire Protection Association – 2014 study