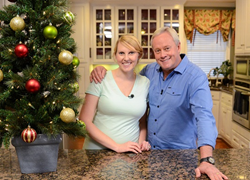 People want their homes to look stylish and welcoming for family and friends during the holidays. The good news is there are some really quick and easy projects you can tackle now to make a big impact.
Mobile, Ala. (PRWEB) November 18, 2015
Media personality and home expert Danny Lipford hosted a nationally televised satellite media event yesterday, reaching over 15 million viewers with tips for a home-holiday makeover. Broadcasting live from a residence, Lipford offered viewers a variety of easy and affordable projects to improve their homes just in time for hosting holiday gatherings.
"Just because it's the holiday season doesn't mean you have to stop improving your home," said Lipford. "It's a busy and stressful time of year and people want their homes to look stylish and welcoming for family and friends. The good news is there are some really quick and easy projects you can tackle now to make a big impact."
With company and party guests coming and going, Lipford advised homeowners to invest some time sprucing up the guest bathroom. Since this room gets a lot of traffic, Lipford suggested looking it over with a critical eye for any problem areas. One quick and effective way to give a bathroom a fresh look is to replace any damaged or discolored caulk. Lipford pointed out that even though caulk replacement is an easy task, it makes a big difference and helps the bathroom look clean and polished. He added that there are plenty of DIY-friendly tools available to help remove old caulk and apply new caulk like a pro. If a sink or tub is showing its age with dings and chips, Lipford said not to throw in the towel just yet. He recommended using a special 2-part epoxy to make repairs. The epoxy works on porcelain, ceramic and enamel, and is available at most home centers.
Improving safety and efficiency of the home is another way to put both guests and homeowners at ease during the busy holiday season. Lipford introduced viewers to a variety of smart-home products that can be controlled remotely from the convenience of a smartphone. Smart-home modules make it easy for a busy homeowner out on a holiday shopping spree to adjust their thermostat or turn on the Christmas lights before heading home with the swipe of a finger. Lipford shared additional products such as light bulbs and outlets that offer the same type of convenient control, and help make a home more energy efficient.
Finally, Lipford offered suggestions to bring a personal touch to holiday gifts by using tools around the house. He invited his daughter, Chelsea Lipford Wolf, host of the lifestyle web series and blog "Checking In With Chelsea," to help by demonstrating how to upcycle basic wooden picture frames. Wolf used a handheld torch to burnish the wood and added trim to personalize each frame. She pointed out other uses for the versatile tool including jewelry making, adding patina to copper and other metals and even in the kitchen to finish off a crème brûlée.
The Danny Lipford Media event reached 15 million people and included national sponsors NuTone®, Homax® and Bernzomatic®. To obtain a video clip from the event for broadcast or web use, visit Today's Homeowner to download, or contact Stephanie Greenwood at 251.478.3345 x110 / stephanie(at)dannylipford.com.
About Danny Lipford
Danny Lipford is a 36-year veteran remodeling contractor and media personality known to audiences as Host of the Emmy-nominated and nationally syndicated home improvement TV show and nationally syndicated radio show "Today's Homeowner with Danny Lipford." Lipford served as the home improvement expert for CBS's "The Early Show" and The Weather Channel for over a decade and has made more than 160 national television appearances. Lipford has been a longtime contributor to Better Homes and Gardens magazine and BHG.com, and continues to serve as a source for hundreds of other popular magazines and news outlets each year. Visit http://www.AboutDannyLipford.com to learn more.
About Chelsea Lipford Wolf
Chelsea Lipford Wolf is an avid home enthusiast, blogger and influencer in the world of do-it-yourself. As host of the lifestyle blog and Telly award-winning web series, "Checking In With Chelsea", she chronicles her unique perspective on projects for the home by tackling a simple home repairs, creative décor projects and finding inspired uses for everyday objects. Wolf also serves as a co-host for the nationally-syndicated "Today's Homeowner" TV show. Learn more at http://www.CheckingInWithChelsea.com.