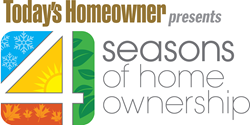 Homes don't come with directions, so my team and I created the '4 Seasons of Home Ownership' to give everyone the information and tools they need to be successful homeowners.
Mobile, Ala. (PRWEB) March 15, 2016
Homeowners everywhere breathed a sigh of relief today as respected home expert Danny Lipford debuted his new, comprehensive guide for home care and maintenance, the "4 Seasons of Home Ownership." Buying a home is often the biggest investment someone makes in a lifetime. Since homes don't come with directions Lipford and his Today's Homeowner team took on the task of creating some. Developed over the course of Lipford's 37-year contracting career, the "4 Seasons of Home Ownership" is a carefully cultivated inventory of every task homeowners need to tackle in a single year to maintain their homes.
The initiative kicked-off with a nationally televised Satellite Media Event broadcast live from Mobile, AL, reaching an audience of 15 million and sponsored by trusted go-to partners in home improvement, Titebond®, Generac and Lamps Plus. Lipford spoke with television and radio hosts from coast to coast, explaining what the "4 Seasons of Home Ownership" is all about. "Over the years I've heard from many homeowners who could have avoided major repairs and big expenses with a little preventative maintenance," he said. "But you don't know what you don't know. That's why my team and I created the '4 Seasons of Home Ownership.' We wanted to give everyone the information and tools they need to be successful homeowners – knowing exactly what they need to do throughout the year to keep their homes in top shape and running smoothly." The "4 Seasons of Home Ownership" delivers a complete inventory of must-do, should-do, and could-do projects for the home – all broken down and aligned with the four seasons of the year.
During the media event, Lipford presented the spring installment of the "4 Seasons of Home Ownership" campaign, discussing the top projects that every homeowner should add to their to-do lists this time of year including:

Giving the home and outdoor furniture a thorough cleaning. Lipford demonstrated how easy this task can be with Generac's 3100 PSI power washer and its adjustable pressure settings.
Cleaning debris from the roof, gutters and downspouts and inspecting for needed repairs such as loose trim or roof shingles, leaks and torn window screens.
Repairing wobbly furniture and mailbox posts. Lipford recommended using Titebond III wood glue for these projects as it provides a durable, waterproof bond that won't be damaged by spring showers.
Sharpening garden tools and preparing flower beds.
Lubricating all exterior hinges, gates, locks and tracks including garage and windows.
Cleaning the dryer vent to improve energy efficiency and reduce fire risk.
Adding new plantings to flower beds, and upgrading exterior lighting to create a welcoming environment for guests. Lipford showcased an outdoor post light from the Bellagio collection at Lamps Plus that he recently installed at a home to create curb appeal and added safety.
In addition to outlining what homeowners need to do to protect their investment, Lipford delivers detailed instructions on how to tackle each project – all in one convenient location. TodaysHomeowner.com/4Seasons is the hub for all "4 Seasons of Home Ownership" resources including Lipford's complete spring checklist, video tutorials, articles, project photos, an interactive infographic, an "Ask Danny" section and more. Homeowners can also engage with Lipford and the Today's Homeowner crew on YouTube, Pinterest, Facebook, Twitter and Instagram to pose questions, share successes and gain additional project insight. The summer installment for the "4 Seasons of Home Ownership" is set to launch June 14.
About Today's Homeowner Media
Today's Homeowner is a trusted home improvement authority delivering fresh, original, practical advice to consumers across diverse media platforms. Brands include the nationally-syndicated Today's Homeowner TV and Radio Shows, the home enthusiast destination website TodaysHomeowner.com, the award-winning blog and web series, Checking In With Chelsea, and the full-service video production firm, 3 Echoes. Host of the brand, Danny Lipford, is a 37-year veteran remodeling contractor and media personality. Lipford served as the home improvement expert for CBS's The Early Show and The Weather Channel for over a decade and has made more than 160 national television appearances, most recently on FOX & Friends and FOX Business Channel. He has been a longtime contributor to Better Homes & Gardens and continues to serve as an expert source for hundreds of other popular magazines and news outlets each year.