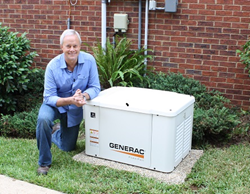 Planning in advance of a storm can help save time, money and provide peace of mind when it really counts.
Mobile, AL (PRWEB) June 03, 2015
Danny Lipford, America's leading home expert and media personality for the Today's Homeowner Brand, launched his annual campaign for storm preparedness yesterday with a nationally televised Satellite Media Tour titled "Hunker Down for Hurricane Season." With over 10 years of experience as the go-to hurricane prep expert for the Weather Channel, CBS This Morning, Fox Business and CNN, Danny efficiently explained the crucial steps that homeowners need to take now to be prepared.
As a lifetime resident of the Gulf Coast himself, Danny has personally seen the devastation that can result when a hurricane strikes. "It's easy to feel a little helpless when a hurricane is headed your way. The one thing you can do to take control of the situation is to make the proper preparations to protect your home and keep your family comfortable. Planning in advance of a storm can help save time, money and provide peace of mind when it really counts."
During the Tour, Danny addressed key strategies for homeowners to tackle before, during, and after a storm strikes.
In advance:

Get organized. Gather key information and supplies you will need in the event of a storm strike or evacuation. (paperwork, phone numbers, evacuation plan, emergency supply kit)
Prepare the home by clearing gutters, downspouts and surface drains to prevent water backflow and damage. Trim any limbs close to the home.
Purchase or test and tune up generator.
When a storm is approaching:

Secure anything outdoors that could become airborne.
Cover all windows and doors.
Finalize plans for possible evacuation. (fill car with gas, charge phones and devices)
In the aftermath:

Ensure roof, windows and doors are secure or covered to prevent further damage.
Photograph all damage and contact insurance company.
Use caution when operating generators and cleaning up around power lines.
Learn more about Danny's tips for storm preparedness by visiting the Hurricane Preparedness page on his website. The tour reached over 15 million households and was sponsored by Today's Homeowner and Generac.
Danny has made a video clip from the Satellite Media Tour available to media outlets interested in sharing his hurricane prep advice. Click here to view and obtain the clip, or contact Stephanie Greenwood at 251.478.3345 x110 / stephanie(at)dannylipford(dot)com.
About Danny Lipford and Today's Homeowner
As a contractor for 36 years, Danny Lipford is one of the most respected and sought-after names in the home improvement industry. He has made more than 160 national television appearances and is an expert source for hundreds of popular magazines and websites each year.
Today's Homeowner is a national, multi-media home improvement brand including Danny's Emmy-nominated television show, Today's Homeowner with Danny Lipford, airing on over 216 stations across the country and reaching over 1.5 million viewers each week. His weekly syndicated radio show by the same name airs on 100 stations across the U.S. and his website, TodaysHomeowner.com, draws over 1.6 million unique monthly viewers.