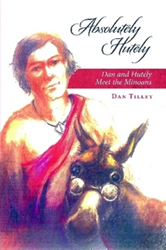 ALBUQUERQUE, N.M. (PRWEB) May 27, 2015
A college student living in a sleepy mountain town is transported to ancient Crete during a dream, only to meet a philosophizing donkey in the new fiction by Dan Tilley, "Absolutely Hutely: Dan and Hutely Meet the Minoans" (published by Lulu).
Dan McCaugh is inspired to study ancient philosophy by his enlightened professor, Dr. Dean. Dan studies the writings of Emanuel Kant, David Hume and Vico before researching ancient Greek history.
One night, a dream transports him to the land of Crete, considered by many to be the birthplace of Western civilization. Dan is guided through Crete and Athens by H.G. Hutely, a donkey who time-travels to places where democracy and freedom are threatened. Hutely also is a professor of life and an honored animal of the Historical Guide Academy.
As the two traverse space and time, they encounter mythological figures such as Crete's King Minos, the Oracle of Delphi and many more. Tilley describes the book as a Pandora's box of human drama, adventure, romance, comedy and critical history that will lead readers on a fantastic journey through the ages.
"Absolutely Hutely"
By Dan Tilley
Softcover | 6 x 9 in | 222 pages | ISBN 9781483401959
E-Book | 222 pages | ISBN 9781483401942
About the Author
Dan Tilley was born in Port Jefferson in Long Island, New York, in 1960. He is of European ancestry, with Irish and French roots. He is cofounder of the groups Durango Citizens Against Forced Relocation and Community Happens. He and his wife, Liz, live in Albuquerque, New Mexico. He has a Bachelor of Arts in political science and teaches social studies.
Lulu empowers people of all ages to explore and express their interests, passions and expertise through books, photography and art. Since introducing self-publishing in 2002, Lulu has empowered creators in more than 225 countries and territories to produce nearly two million publications. Lulu Jr. allows children to become published authors, encouraging creativity, strengthening literacy and building self-esteem. Picture.com offers professional photography of collegiate and professional sports, memorable and historic events, fine art and home décor. For more information, please visit lulu.com.