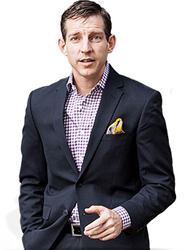 If you've followed all the rules, and it hasn't worked, then this is the perfect book for you.
Greenville, SC (PRWEB) February 27, 2014
Dan Waldschmidt is here to change the way we see self-help books with his new tome,Edgy Conversations: How Ordinary People Achieve Outrageous Success. The book, perfect for anyone craving greater success, has been written with actual implementation in mind.
Most books about helping yourself become successful follow a similar trajectory-- the outline, in some form, of what the road to success should look like. Many give the reader rules or mantras to follow, but none have unlocked the secret of truly attaining success. Despite the fact that many of the books offer a different objective—whether it is weight loss, career advice, or strengthening personal relationships—often, these rules or guidelines are, more or less, the same.
Edgy Conversations contains 150 stories of ordinary people who became incredibly successful in fields ranging from science to business to sports to politics. Dan Waldschmidt spent a great deal of time researching these individuals, after his own disappointing encounters with success-oriented books. He found that, though these books gave a rough sketch of what the road to success should be, they didn't help him, or anyone he knew, actually achieve it.
So, Dan Waldschmidt determined the principles for success by studying the successful. "If you've followed all the rules, and it hasn't worked, then this is the perfect book for you."
As a result, he feels he has uncovered the key to driving success through timeless qualities, and modification of the beliefs and behaviors that limit someone's ability to succeed.
"With the old model, you work your butt off, but, at the end of the day, you're no closer to success than you were yesterday. Edgy Conversations aims to help you move forward and get there," adds Waldschmidt.
Dan Waldschmidt
Dan Waldschmidt was born five weeks late and has been making up lost time ever since. He got a standard entry-level job right out of college, but then he changed the sales process, earned millions of dollars for the company, and became CEO by the time he was 25. Now he works primarily as a business strategist and speaker. Dan and his team help companies all over the world arrive at business-changing breakthrough ideas by moving past outdated conventional wisdom, social peer pressure, and the selfish behaviors that stop them from being high performers. The Wall Street Journal calls his blog, Edgy Conversations, one of the Top 7 sales blogs anywhere on the internet. He's been profiled in Business Week, INC Magazine, Business Insider, and on dozens of radio programs. Hundreds of his articles on unconventional business strategy have been published. Dan is also an avid runner.