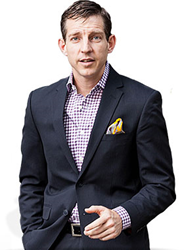 It's about asking yourself: are you willing to commit to extreme behavior or will you justify your mediocrity?
Greenville, South Carolina (PRWEB) March 03, 2014
When people think about self-help books, they often have a particular idea of the worn-out and tired advice that these books will contain. However, Dan Waldschmidt's Edgy Conversations: How Ordinary People Achieve Outrageous Success is a rare exception to this rule. Waldschmidt takes a different approach, tackling, well, "edgy conversations." It isn't a book filled with typical success-advice nonsense. Rather, Waldschmidt outlines four qualities shared by those who are outrageously successful, each represented by the acronym "edgy."
Waldschmidt is conducting real conversations with readers, each focused on one of the qualities, or one of the letters in "edgy." The first, which takes place Wednesday, March 5, will focus on the "e" and stands for "extreme behavior." Readers will be able to dial in to 424.203.8405, using the pin number 947128 to speak to Waldschmidt, himself, about extreme behavior. Says Waldschmidt, "It's about asking yourself: are you willing to commit to extreme behavior or will you justify your mediocrity?" Waldschmidt, who even has "live extreme" tattooed on his arm, knows a thing or two about the unrelenting discipline and heart that being extreme requires.
Who: Dan Waldschmidt, author of Edgy Conversations, readers, and people who are interested in achieving their highest potential, instead of holding themselves back.
What: A conference call to discuss the extreme qualities shared by successful people, represented by the 'E' in Waldschmidt's Edgy Conversations and to share more of his insights on success with participants.
When: March 5, 2014, at 9 PM EST
Where: 424.203.8405, pin number 947128
"Start with extreme effort, extreme differentiation, and extreme dedicatation to learning," says Waldschmidt. "You can't go wrong with being extreme in these areas." With his book Edgy Conversations, and these conference calls, Waldschmidt aims to modify the beliefs and behaviors that are impediments to success, beginning with learning to be "extreme."
Dan Waldschmidt
Dan Waldschmidt was born five weeks late and has been making up lost time ever since. He got a standard entry-level job right out of college, but then he changed the sales process, earned millions of dollars for the company, and became CEO by the time he was 25. Now he works primarily as a business strategist and speaker. Dan and his team help companies all over the world arrive at business-changing breakthrough ideas by moving past outdated conventional wisdom, social peer pressure, and the selfish behaviors that stop them from being high performers. The Wall Street Journal calls his blog, Edgy Conversations, one of the "Top 7" sales blogs anywhere on the Internet. He's been profiled in Business Week, INC Magazine, Business Insider, and on dozens of radio programs. Hundreds of his articles on unconventional business strategy have been published. Dan is also an avid runner.