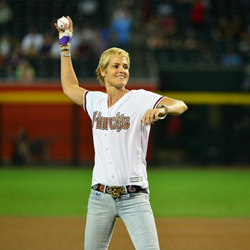 Even though Dara hasn't competed since the 2012 Olympic Trials, she is in far higher demand today as a keynote speaker for corporate conferences, business meetings and other special events. -Evan Morgenstein
Cary, NC (PRWEB) June 23, 2015
12-time Olympic Medalist Dara Torres was on hand to provide a stirring motivational speech to the Arizona Diamondbacks organization prior to their home matchup against the San Diego Padres on Friday, June 19. Dara won 12 total medals during her historic Olympic run and was able to relate to the pressures and challenges MLB players face as elite athletes. Dara then hit the field to throw out the first pitch, closing out an exciting day at Chase Field.
Dara's inspirational message touched on a variety of topics surrounding training, recovery, and living out a healthy lifestyle. She reveled in the opportunity to talk to other elite athletes about what it takes to keep your body and mind operating at peak performance. Dara said, "I've always loved sharing my story of success with all kinds of groups from women's conferences to corporations and now the Diamondbacks players. I feel like my success has universal aspects that can help others achieve their goals in life and work."
The players were very inquisitive, asking questions hoping to better understand her approach to health and fitness as a successful Olympic swimmer. At 48, Dara is a picture of peak physical fitness, appearing in publications such as Shape, Women's Health, and Glamour magazines. In 2014, Dara created her own health & fitness app that gives users access to her favorite training methods and tips for staying fit.
Her unique position as an Olympic Gold Medalist and renowned fitness advocate has cultivated many opportunities for keynote speaking engagements in the last few years. Dara's longtime agent and CEO of PMG Evan Morgenstein commented, "Even though Dara hasn't competed since the 2012 Olympic Trials, she is in far higher demand today as a keynote speaker for corporate conferences, business meetings and other special events. While most retired Olympic athletes can only garner speaking engagements during an Olympic year, Dara has been booked consistently over the past 3 years."
For more information on how to hire Motivational Speaker Dara Torres for appearances/endorsements contact evan(AT)pmgsports.com or call (919)459-5426.
About Premier Management Group (PMG)
Premier Management Group is an elite sports marketing agency with the goal to create a space in the industry that is completely unique through superior creativity and innovation. PMG's goal is to provide each client with the same level of professional representation and service. Additionally, PMG is an industry leader in providing corporate consulting services. Each client, whether athlete or corporation, is treated with an added personal touch.