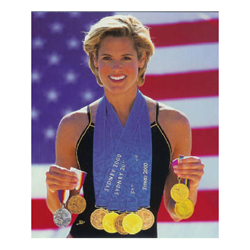 Dara is a transformational celebrity. What she did wasn't just about the medals. Dara empowered women to continue to chase their dreams later in life and show that fitness isn't just for millennials and Gen Xers -Evan Morgenstein
COLORADO SPRINGS, Colo. (PRWEB) September 24, 2019
It was announced today that U.S. Olympic swimming great Dara Torres was elected to the United States Olympic & Paralympic Committee Hall of Fame class of 2019. The induction ceremony will take place at the USOC facilities on November 1, 2019. Torres, the iconic swimmer who made global waves with her comeback at 40 years old after having her daughter Tessa, was beating competitors half her age on her way to several American Records at the 2008 Olympic trials in Omaha Nebraska.
Torres, the most medaled US female Olympic athlete, will be joining the likes of Olympic greats Candace Cable (Para alpine skiing, Para Nordic skiing, Para track and field), Lisa Leslie (basketball), Nastia Liukin (gymnastics), Misty May-Treanor (beach volleyball), Apolo Anton Ohno (short track speedskating), Erin Popovich (Para swimming), Chris Waddell (Para alpine skiing, Para track and field), the 1998 U.S. Olympic Women's Ice Hockey Team, John Carlos (legend: track and field), Tommie Smith (legend: track and field), Ron O'Brien (coach: diving), and Tim Nugent (special contributor). This elite group of athletes, coaches, and contributors will be the first inductees into the USOC Hall of Fame since 2012. This award clearly impacted Torres, "I am so honored to be inducted into the USOC Hall of Fame. It is never anything I thought of when I started swimming at 8 years old. I have four older brothers so I've been competitive since the day I was born! To look at the distinguished careers of the other inductees is just so humbling. I hope my induction will inspire other athletes of all ages and instill in them that anything is possible and Age Is Just A Number. My career has never been solely about swimming, it's about inspiring others to do things they never dreamed they could possibly do."
Torres inspired tens of millions of 40+ year old men, women, and moms to achieve whatever they want in their lives. Dara also convinced women that having children is just the beginning of their journey to greatness, not the end. By bringing so many women and moms into swimming and the Olympic movement, Dara has become a favorite for organizations having events focused on accomplishing your goals later in life as well as women's events and conferences. Torres' longtime agent Evan Morgenstein sees Dara's impact every day, "Dara is a transformational celebrity. What she did wasn't just about the medals. Dara empowered women to continue to chase their dreams later in life and show that fitness isn't just for millennials and Gen Xers. The volume of interest corporations and events have in utilizing Dara as a motivational speaker and/or celebrity spokesperson just amazes me!"
Today at 52, Torres lives in South Florida with her daughter Tessa, focusing on being a mom and a role model. The induction will be a very special event for Torres who plans on having her family and friends by her side. Torres has always felt her success was a group effort.
For more information on Dara Torres regarding partnerships or appearances, contact Evan Morgenstein at 919-332-0584 or evan@pmgsports.com.