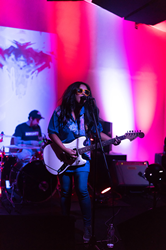 "Darbly understands entertainment and will combine a unique experience with a traditional bar in Houston's exciting new EaDo neighborhood – we think they're onto something here" - Nick Carnrite, CEO of LetsLaunc
HOUSTON (PRWEB) March 12, 2019
Darbly Studios announced their plan for a new development coming in 2020 to the east downtown (EaDo) district of Houston TX. Named the HIEV, short for Highly Immersive Experience Venue, Darbly studios is attempting to create a new kind of entertainment establishment that will feature a series of fan sensitive/immersive installations that they believe will bring a concertgoer closer to the performance than ever before. Among some of the many innovations, the HIEV hopes to create are technological based solutions that will respond to an attendee's touch, movement, and other forms of stimuli. Apart from these new forms of interaction, the HIEV will also aim to be a full-service bar that caters to a growing base of eventgoers looking for a different kind of nightlife experience.
In order to help fund and promote their new concept, Darbly studios announced they partnered with LetsLaunch.com. "The HIEV is here to change the game with respect to live entertainment, and we couldn't be happier to help make this a reality," said LetsLaunch Co-Founder Brian Coyle. "Darbly understands entertainment and will combine a unique experience with a traditional bar in Houston's exciting new EaDo neighborhood – we think they're onto something here" added LetsLaunch CEO Nick Carnrite.
The HIEV's founders – Lee Cerda, Kitric Kerns, and Tyler Gillespie – have a broad range of experience throughout the food, entertainment, and marketing. Lee has worked across many industries including retail sales, healthcare, and oil and gas, whereas Kitric Kerns has worked in the media and entertainment industry for over 25 years, with former employers including CNN, Cartoon Network, and Disney. Tyler Gillespie has held positions with Microsoft and North Face, while also being involved with multiple startups globally.
The HIEV is currently seeking $250,000 of capital to begin operations in Houston. Darbly Studios encourages anyone interested in investing to visit http://www.letslaunch.com to learn more. Investing in the HIEV became available on March 7, 2019.