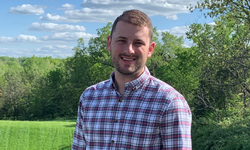 LOUISVILLE, Ky. (PRWEB) June 14, 2021
Dark Horse CPAs, a top accounting and tax firm serving small businesses and individuals across the nation, announces the hiring of Teddy Mizerak, CPA as an Accelerator in the firm's Principal Accelerator Program. Mizerak's extensive experience with small to medium-sized businesses (and their owners) in the areas of tax, accounting and bookkeeping as well as directing a tax department for a fast-growing healthcare company was why he was sought out by Dark Horse.
Teddy earned a degree in accounting from the University of Louisville in 2014, and earned his CPA license in 2016. During a four-year stint with a Big 4 firm and a two-year stint with a mid-sized regional CPA firm, he provided accounting and tax support to a wide range of individuals and entities. Knowing he wanted to do something more entrepreneurial that would allow him to provide a higher-level of client service, joining Dark Horse was the perfect fit.
When asked what makes his vocation fulfilling, he responded, "I enjoy being that resource for people to lean on from a tax and accounting standpoint to hopefully make their lives a little easier." Teddy knew that he himself needed resources to be the best resource possible to a client. "I decided to join Dark Horse because I believe they give me the best tools and resources to help me succeed in providing my clients the best all-around experience they've ever had with a CPA," says Mizerak.
"Teddy is the kind of CPA that builds rapport instantly due to a combination of subject matter expertise, candor and humor," says Chase Birky, CEO and co-founder of Dark Horse CPAs. "People appreciate a professional that knows their craft, knows themselves and has their client's best interests at heart. I think clients will be surprised to find themselves laughing and having an overall enjoyable conversation with their CPA. One of Dark Horse's founding principles is that exceptional outcomes are the product of a great relationship between CPA and client. Teddy embodies this."
About the Dark Horse Accelerator Program
The Dark Horse Principal Accelerator Program was created for entrepreneurially-minded CPAs that want to build a scalable book of business without the personal and financial sacrifices required of starting a firm from scratch. Dark Horse empowers their CPAs with the resources and support to grow intelligently and profitably. Their proprietary technology, flexible staffing and industry-leading systems and processes enable CPAs to focus on being the trusted advisor to their clients, unlocking unprecedented value in these relationships, so that they will continue to be relevant long into the future while their counterparts become increasingly displaced by technology.
Accelerators are put through a training program that acclimates them to the firm's exclusive tech stack, followed by proprietary sales training and one-on-one coaching. Upon completion of training, they begin building their book of business by fielding inquiries from potential Dark Horse clients. To facilitate their growth, Accelerators have full-time and fractional professional personnel support at their disposal. A collaborative group of like-minded CPAs go the extra mile to help them out in areas where they lack expertise. This new CPA firm business model includes an active corporate team that ensures their work is of high quality and strategically focused. After successful completion of the program, they can become an equity principal of the firm.
The Dark Horse Principal Accelerator Program is currently accepting new Accelerators. Interested CPAs are invited to dive deeper into the program on the Dark Horse website or by emailing info@darkhorse.cpa.
About Dark Horse CPAs
Dark Horse CPAs provides integrated tax, accounting and CFO services to small businesses and individuals across the U.S. The firm was founded to save small businesses (and their owners) from subpar accounting and tax services and subpar client experiences. These small businesses are Dark Horses among their larger and more well-known competition. Being a Dark Horse CPA means advocating for small businesses by bringing to them the tax strategies and accounting insights previously reserved for big business. To learn more, visit Darkhorse.cpa.