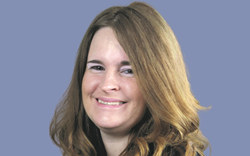 I want to offer small town communities competitive strategies with the use of innovative, big city resources and ideas at our disposal
GRAFTON, W. Va. (PRWEB) December 23, 2021
Dark Horse CPAs, a top accounting and tax firm serving small businesses and individuals across the nation, announces the hiring of Tina Lawrence, CPA as an Accelerator in the firm's Principal Accelerator Program. Lawrence's extensive experience with small businesses and high net worth individuals in the areas of tax and accounting with a focus on strategic advisory earned him a seat in Dark Horse's Principal Accelerator Program.
Tina earned a bachelor's degree in accounting from the University of Central Florida and an MBA from the University of South Florida along with a CPA license from the states of Florida and West Virginia. She brings nearly two decades of experience in public accounting, serving an expansive range of businesses and individuals in the areas of tax and accounting at CPA firms of varying sizes. As opposed to buying a local, WV-based book of business to get her own practice started, Tina saw the advantages of building a book of business selectively with the use of remote technology to attract tech savvy customers throughout the USA. With the backing, resources and knowledge base of a progressive, multi-state CPA firm, Tina plans to bring innovative opportunities and ideas to the great state of West Virginia, while also sharing what rural America has to offer the nation. In other words, Tina saw the advantages of becoming a Dark Horse CPA.
When asked what made the Accelerator Program compelling, she responded, "the use of innovative technology to bring accountants and clients together combined with the diverse collaboration of ambitious, like-minded professionals has great value to benefit the growth potential and recovery process for post-Covid small businesses throughout the nation. I want to offer small town communities competitive strategies with the use of innovative, big city resources and ideas at our disposal."
"Tina can always find something to smile and laugh about," says Chase Birky, CEO and co-founder of Dark Horse CPAs. "It's this easy-going approach that will make the client relationship an organic one. But don't let her good-natured disposition fool you, she's as serious as they come when it comes to her craft, helping her clients achieve unparalleled insights into their business' performance and tax efficiencies on their profits."
About the Dark Horse Accelerator Program
The Dark Horse Principal Accelerator Program was created for entrepreneurially-minded CPAs that want to build a scalable book of business without the personal and financial sacrifices required of starting a firm from scratch. Dark Horse empowers their CPAs with the resources and support to grow intelligently and profitably. Their proprietary technology, flexible staffing and industry-leading systems and processes enable CPAs to focus on being the trusted advisor to their clients, unlocking unprecedented value in these relationships, so that they will continue to be relevant long into the future while their counterparts become increasingly displaced by technology.
Accelerators are put through a training program that acclimates them to the firm's exclusive tech stack, followed by proprietary sales training and one-on-one coaching. Upon completion of training, they begin building their book of business by fielding inquiries from potential Dark Horse clients. To facilitate their growth, Accelerators have full-time and fractional professional personnel support at their disposal. A collaborative group of like-minded CPAs go the extra mile to help them out in areas where they lack expertise. This new CPA firm business model includes an active corporate team that ensures their work is of high quality and strategically focused. After successful completion of the program, they can become an equity principal of the firm.
The Dark Horse Principal Accelerator Program is currently accepting new Accelerators. Interested CPAs are invited to dive deeper into the program on the Dark Horse website or by emailing info@darkhorse.cpa.
About Dark Horse CPAs
Dark Horse CPAs provides integrated tax, accounting and CFO services to small businesses and individuals across the U.S. The firm was founded to save small businesses (and their owners) from subpar accounting and tax services and subpar client experiences. These small businesses are Dark Horses among their larger and more well-known competition. Being a Dark Horse CPA means advocating for small businesses by bringing to them the tax strategies and accounting insights previously reserved for big business. To learn more, visit Darkhorse.cpa.