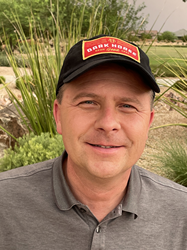 I believe being a CPA is a worthy calling and I'm excited to partner with Dark Horse's drive to rewrite the rules of the game, reverse the trend and, ultimately, save public accounting.
PHOENIX (PRWEB) November 22, 2022
Dark Horse CPAs, a top accounting and tax firm serving small businesses and individuals across the nation, announces the hiring of Troy Constance as the firm's Director of Tax. Mr. Constance adds a unique blend of extensive public accounting experience with a stint as an Accelerator at Dark Horse. He is uniquely qualified to support the firm's Principals, Accelerators and team members having the recent experience of sitting in their exact chair. Thus, when he threw his hat in the ring for the Tax Director job opening, the decision was a no-brainer. Prior to Dark Horse, Troy served as a Senior Manager at a large, multinational accounting firm. There, he gained deep experience in tax operations and myriad technical tax accounting issues.
Troy found in Dark Horse the desire and ability to resolve the many shortcomings in public accounting and was excited by their creative approach to building a better accounting firm and better lives for their people. He also found in himself the desire and ability to contribute substantially to Dark Horse's mission to democratize the modern accounting firm.
While citing a study by the AICPA that estimates that in 15 years, 75% of CPAs will retire while fewer college students pursue accounting degrees, Troy remarked, "this leaves the future of public accounting in a precarious position. I believe being a CPA is a worthy calling and I'm excited to partner with Dark Horse's drive to rewrite the rules of the game, reverse the trend and, ultimately, save public accounting. It's an amazing opportunity to join forces with this group of game changers!"
Speaking to the excitement for the work he is embarking upon, Troy explained, "Dark Horse has a treasure trove of industry experience and, collectively, hundreds of years of experience. I'm excited to help harness this asset and facilitate collaboration among CPAs."
Chief among facilitating collaboration, Troy will be, "standardizing workpapers and streamlining tax processes to ease the burden on CPAs during the busier times and speed up the learning curve for newer team members. I'm looking forward to bringing the already effective workflow architecture to the next level, with a focus on bringing the right minds within Dark Horse to the table so that everyone is continually up-leveling." Additionally, Troy has an eye towards aiding the development of the individual practices within the platform CPA firm through, "creating a turn-key onboarding experience for new team members and leveraging technology to enhance opportunities for Principals and Accelerators to scale their practices."
"To be honest, most technically-focused CPAs are not the type of people you could have a beer with for a host of reasons," says Chase Birky, CEO & co-founder of Dark Horse CPAs. "Troy, however, is someone you truly enjoy being around. He's always got a smile and a one-liner at the ready. And, most importantly, he's a stand-up guy who strikes the right balance between a wealth of knowledge and a thirst for more. We were very fortunate to fill this role on our leadership team with one of our own. I'm confident we'll do great things together."
About Dark Horse CPAs
Dark Horse CPAs provide integrated tax, accounting and CFO services to small businesses and individuals across the U.S. The firm was founded to save small businesses (and their owners) from subpar accounting and tax services and subpar client experiences. They accomplish this through the resources and support of the firm as well as their Dark Horse peers. Their small business clients are Dark Horses among their larger and more well-known competition. Being a Dark Horse CPA means advocating for small businesses by bringing to them the tax strategies and accounting insights previously reserved for big business. It also means advocating for yourself, your peers and the public accounting profession. To learn more, visit our client-facing site, Darkhorse.cpa, or our accountant-facing site, aBetterWay.cpa