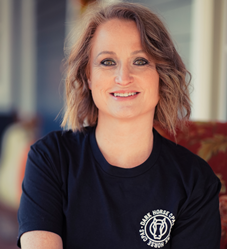 I love being part of my colleagues' success. I think that's what makes Dark Horse so compelling for me. The program is designed so that others success and knowledge can benefit you if you are willing to draw from it.
ATLANTA (PRWEB) December 16, 2021
Dark Horse CPAs, a top accounting and tax firm serving small businesses and individuals across the nation, announces the hiring of Wendy Holloway, CPA as an Accelerator in the firm's Principal Accelerator Program. Holloway's extensive experience with small businesses and entrepreneurs in the areas of tax and accounting, including business development experience with her own firm earned her a seat in Dark Horse's Principal Accelerator Program.
Holloway earned a degree in accounting from Kennesaw State University and a Master's degree in Accounting & Financial Management from Keller Graduate School. She's been a licensed CPA for 2 decades and has experience as a Certified Trust & Financial Advisor. Over the past 20 years, she has served as a VP and Trust Officer at a large bank, a controller at a construction company, and a tax accountant at various firms. Seeking an entrepreneurial endeavor that would provide the support and community she needed to grow and scale a book of business with the autonomy to serve clients as she saw fit lead her to Dark Horse CPAs.
When asked what made the Accelerator Program compelling, she responded, "The most compelling part of the program for me is that while you are growing and building your own book of business you are able to leverage the knowledge and expertise of the wonderful professionals around you. I am extraordinarily happy to be able to draw upon as well as contribute to that team of experts." Elaborating more on the collaboration at Dark Horse, Wendy mentioned, "I love being part of my colleagues' success. I think that's what makes Dark Horse so compelling for me. The program is designed so that others success and knowledge can benefit you if you are willing to draw from it. I am very excited about drawing from all the different areas of expertise within the firm and growing my own niche. To have the freedom to use your expertise to help others be successful without the stress of the normal time constraints is a wonderfully exciting thing."
"Wendy brings with her a lot of really valuable experience that will benefit all of our Dark Horse CPAs, especially given her alignment with our core value of collaboration," says Chase Birky, CEO and co-founder of Dark Horse CPAs. "People who are able to look beyond themselves and actively bring up those around them are the embodiment of everything Dark Horse stands for. In turn, she'll also receive a lot of insight, knowledge, and first-hand experience from her peers. Needless to say, I'm very excited to see her growth journey!"
About the Dark Horse Accelerator Program
The Dark Horse Principal Accelerator Program was created for entrepreneurially-minded CPAs that want to build a scalable book of business without the personal and financial sacrifices required of starting a firm from scratch. Dark Horse empowers their CPAs with the resources and support to grow intelligently and profitably. Their proprietary technology, flexible staffing and industry-leading systems and processes enable CPAs to focus on being the trusted advisor to their clients, unlocking unprecedented value in these relationships, so that they will continue to be relevant long into the future while their counterparts become increasingly displaced by technology.
Accelerators are put through a training program that acclimates them to the firm's exclusive tech stack, followed by proprietary sales training and one-on-one coaching. Upon completion of training, they begin building their book of business by fielding inquiries from potential Dark Horse clients. To facilitate their growth, Accelerators have full-time and fractional professional personnel support at their disposal. A collaborative group of like-minded CPAs go the extra mile to help them out in areas where they lack expertise. This new CPA firm business model includes an active corporate team that ensures their work is of high quality and strategically focused. After successful completion of the program, they can become an equity principal of the firm.
The Dark Horse Principal Accelerator Program is currently accepting new Accelerators. Interested CPAs are invited to dive deeper into the program on the Dark Horse website or by emailing info@darkhorse.cpa.
About Dark Horse CPAs
Dark Horse CPAs provides integrated tax, accounting and CFO services to small businesses and individuals across the U.S. The firm was founded to save small businesses (and their owners) from subpar accounting and tax services and subpar client experiences. These small businesses are Dark Horses among their larger and more well-known competition. Being a Dark Horse CPA means advocating for small businesses by bringing to them the tax strategies and accounting insights previously reserved for big business. To learn more, visit Darkhorse.cpa.