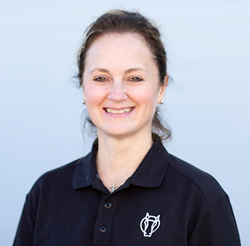 I was concerned about feeling isolated. Instead, I was surrounded, although virtually, by a team of people, each growing their own practice but in a collaborative atmosphere. It was unlike anything I've ever experienced.
TUSCALOOSA, Ala. (PRWEB) February 28, 2022
Dark Horse CPAs, a top accounting and tax firm serving small businesses and individuals across the nation, announces the promotion of Susan Snowden to Principal. Snowden's outstanding client service to small businesses in the areas of accounting and fractional CFO services has earned her a seat at the table, becoming an equity Principal of the firm.
Susan entered the Dark Horse Principal Accelerator Program in August 2021 where she built a 6-figure book of business in 2 months, due to a combination emotional intelligence, technical knowledge and sticking to the Dark Horse business development playbook. Susan is well loved by the clients she's engaged with since becoming a Dark Horse CPA. Due to the quality of her work, the depth of her relationships with clients and contributions to the firm, the decision was made to promote her to Principal immediately.
Speaking to the challenges posed by the Accelerator Program, Susan stated, "I was so excited and eager to work with small business owners that I quickly fell into the old habit of working long hours. Although I was enjoying every minute of what I was doing to grow my business, I had not anticipated how quickly this would happen. I had to take a step back and reset. I was putting in the hours for something I truly love, but a body still needs rest!" Fast forward to the rewarding elements of the program, Snowden explained, "Realizing the circumstances that led me to Dark Horse were nothing short of God's intervention in my life. I have been blessed beyond measure and am grateful every day for the freedom I have in all facets of my life. I choose the work I wish to do, with whom I wish to work and the hours in which to do it. Life doesn't get any better!"
Speaking about what she was most surprised about in her journey at Dark Horse, she mentioned, "I didn't anticipate building such close relationships with my fellow Accelerators and colleagues while working remotely. I was concerned about feeling isolated. Instead, I was surrounded, although virtually, by a team of people, each growing their own practice but in a collaborative atmosphere. It was unlike anything I've ever experienced. Although we have graduated from the Accelerator Program, we still have group chats and periodic video calls. I feel as though the five of us will always share that special connection."
When asked what she'd like other potential Accelerators to know about Dark Horse and it's Accelerator Program, Susan expounded, "the program is everything and more than advertised. Dark Horse leadership truly partners with Accelerators to ensure their success. The program works because there is unilateral buy-in and belief among Accelerators, and everyone is supporting each other along the journey."
"It was really fate that our paths would cross as it wasn't due to any direct outreach or marketing on our end" says Chase Birky, CEO & co-founder of Dark Horse CPAs. "A simple search into whether the name, "Dark Horse" was being used by an accounting firm landed her on our site, and the rest is history. Susan has built her book of business quicker than anyone in our firm's history and has helped pioneer our fractional CFO offering along with supporting her peers. So, yeah, you can say the decision to promote Susan to Principal was no decision at all but rather a foregone conclusion."
About the Dark Horse Accelerator Program
The Dark Horse Principal Accelerator Program was created for entrepreneurially-minded CPAs that want to build a scalable book of business without the personal and financial sacrifices required of starting a firm from scratch. Dark Horse empowers their CPAs with the resources and support to grow intelligently and profitably. Their proprietary technology, flexible staffing and industry-leading systems and processes enable CPAs to focus on being the trusted advisor to their clients, unlocking unprecedented value in these relationships, so that they will continue to be relevant long into the future while their counterparts become increasingly displaced by technology.
Accelerators are put through a training program that acclimates them to the firm's exclusive tech stack, followed by proprietary sales training and one-on-one coaching. Upon completion of training, they begin building their book of business by fielding inquiries from potential Dark Horse clients. To facilitate their growth, Accelerators have full-time and fractional professional personnel support at their disposal. A collaborative group of like-minded CPAs go the extra mile to help them out in areas where they lack expertise. This new CPA firm business model includes an active corporate team that ensures their work is of high quality and strategically focused. After successful completion of the program, they can become an equity principal of the firm.
The Dark Horse Principal Accelerator Program is currently accepting new Accelerators. Interested CPAs are invited to dive deeper into the program on Dark Horse's recruiting site, abetterway.cpa or by emailing info@darkhorse.cpa.
About Dark Horse CPAs
Dark Horse CPAs provides integrated tax, accounting and CFO services to small businesses and individuals across the U.S. The firm was founded to save small businesses (and their owners) from subpar accounting and tax services and subpar client experiences. These small businesses are Dark Horses among their larger and more well-known competition. Being a Dark Horse CPA means advocating for small businesses by bringing to them the tax strategies and accounting insights previously reserved for big business. To learn more, visit Darkhorse.cpa.