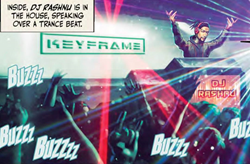 The DARK PROPHET VR comic series featurette is the first of its kind, establishing itself as a new genre of media entertainment and technology.
Los Angeles, CA (PRWEB) October 09, 2014
DARK PROPHET "The Light Exposing Darkness", the groundbreaking multiplatform storytelling franchise, officially premieres its latest comic book productions at New York Comic Con in the forms of a Special Limited Edition Comic Book and a Virtual Reality Comic Series Featurette.
The talents and expertise of three companies, Digital-Reign, LLC, Technology Exploration Group, Inc., with its sister company Gearboxx Interactive Studios, and DODOcase Inc., have joined forces to produce and distribute the VR comic series featurette.
To collectively produce and distribute the DARK PROPHET VR comic series featurette, Evette Vargas, CEO and co-founder of Digital-Reign, writer and creator of the DARK PROPHET mulitplatform storytelling franchise contributes her story universe, comic books and 2.5D art gallery; Greg and Jennifer Deeds, founders of Technology Exploration Group and Gearboxx Interactive Studios, contribute their VR 3D technology platform; and Craig Dalton, CEO and co-founder of DODOcase, contributes his DODOcase VR Viewer.
The DARK PROPHET VR comic series featurette is the first of its kind, establishing itself as a new genre of media entertainment and technology. The first comic series episode will be available early 2015. Visit the DODOcase booth #1568 to get the DARK PROPHET special limited edition comic book and watch the VR comic series featurette with the DODOcase VR Viewer. You can also see the DARK PROPHET comic series featurette at GearBoxx.com/DarkProphet and buy the DODOcase VR Viewer at BIT.LY/GEARBOXX.
Digital-Reign, DARK PROPHET's production company, partnered with Keyframe-Entertainment to produce the special limited edition comic book as their first joint venture. Marvel artist Tony Washington beautifully renders the 2.5D art. New York Comic Con runs October 9th - 12th at the Jacob Javits Convention Center.
DARK PROPHET, the original digital series, starring Henry Rollins (Sons of Anarchy, Black Flag, Rollins Band) and Chase Fein (Suburgatory), premiered on Launch TV Network in June to 85 million subscribers. The digital series will continue to charm its audience in 2015 on Launch TV, beginning the first season with ten episodes. This Sci-Fi Action Thriller has been mounting accolades since it premiered at the 2014 Sundance Film Festival Indie Filmmakers Lounge. The series was in contention for two 2014 TV Academy Emmys in the Interactive category, won an NBC/Universal Production Award and was an official selection at the WGA Writer & Director Showcase. A Scare Bears toy is in the works.
DARK PROPHET is a present day Sci-Fi Action Thriller written & created by Evette Vargas. DARK PROPHET is the story of gifted music student Dai Shepherd, who discovers top secrets hidden in the binary codes of songs, and then finds himself framed for his girlfriend's murder. To find her killer and save civilization, Dai must stop Black Box, the rogue Intel agency that planted the secrets, from triggering the cyber-intelligence takeover of the planet. Viewers can expect the intricate plots of The Matrix paired with the high-paced action of 24 with references to current real-world cyber intelligence leaks.
For a sneak peak at the DARK PROPHET Digital Series, visit http://youtu.be/sN3SIh8OxO8.
Follow DARKPROPHET at: @HearTheWarning and http://www.facebook.com/Hearthewarning.
In an unprecedented new community-centric platform developed by Follr, DARKPROPHET viewers can deeply engage with cast, content and other community members. Deemed "DARK PROPHET Universe," the new platform curates information from around the web and allows the timelines of DARK PROPHET actors, characters and fans to intersect, revolutionarily breaking down the symbolic fourth wall and taking multiplatform engagement to the next level. Join the community at DARKPROPHETUniverse.com
Digital-Reign: The Fusion of Storytelling, Media and Technology
Digital-Reign is an award-winning multiplatform production company that creates original content, interactive experiences and visual media in the areas of television, film, mobile apps, games, augmented reality, Oculus Rift, comics, social media and more. The synthesis of storytelling, media, technology and pop-culture inspires Digital-Reign's creations. Knowing the rules and breaking them is the key of Digital-Reign's success.
TEG: Technology Exploration Group and GearBoxx Interactive Studios
The Technology Exploration Group was born out of vision to provide customers with customized and comprehensive technology solutions. Our clients are encouraged to imagine that anything is possible. From this inspiration comes invention and solutions.
The mission of GearBoxx Interactive Studios is to provide customers with unique media designs that combine cutting edge technology and creative energy. The internet is an outstanding platform to make ones business smart, efficient and profitable.
DODOcase: DODOcase VR Viewer
DODOcase fosters creativity while protecting inspired human endeavors from extinction. DODOcase creates a human connection between craftsmen and consumers, and aspire to create unexpected joy and fun. The growing team of professional woodworkers, bookbinders, sewers and silk screeners share a common vision of striving for excellence and building quality products.
Keyframe-Entertainment:
Keyframe-Entertainment is a media network that creates global positive change by inspiring, informing, and entertaining through Transformational films, Visionary Art, electronic music and festival culture. Keyframe produces, finances, and distributes cutting edge projects in order to generate growth for our partners and strengthen community-building worldwide. Keyframe was launched in 2004 as a music label and artist management company and has since expanded its scope to include consciousness films and events. Keyframe-Entertainment is the Executive Producer of "Electronic Awakening" and the creator of Keyframe-Cinema, an online service that allows Transformational filmmakers to share their work with fans, film buffs, and festivals.
Follow DARK PROPHET at @HearTheWarning and facebook.com/Hearthewarning and DarkProphetUniverse.com and instagram.com/hearthewarning
info(at)digital-reign(dot)net
For more information please contact Digital-Reign Productions at 323-960-0765 or
info(at)digital-reign(dot)net | @VargasGirl
Follow Evette Vargas at @VargasGirl and facebook.com/evette.vargas.5
evette(at)digital-reign(dot)net
For media queries and interview requests contact:
Ronald E. Childs c/o OMEN Communications, at 312-922-1959 or TheOMEN091959(at)aol(dot)com
Tina Davis at (775) 544-5131 or tina.chenault(at)gmail(dot)com
Nawal Bengholam c/o Digital-Reign Productions, at 310-709-3882 or nawal.thesp(at)gmail(dot)com
Angie Quidim c/o That's My Entertainment, at 858-768-1563 or aquidim(at)thetestmarketevolution(dot)com
For Keyframe-Entertainment contact:
Natacha c/o Keyframe-Entertainment, at natacha(at)keyframe-Entertainment(dot)com
1 Hallidie Plaza 2nd Floor, San Francisco, CA