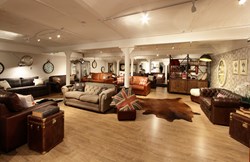 Tunbridge Wells has been chosen as the the home of Darlings of Chelsea's newest showroom, the luxury furniture retailer has announced
(PRWEB UK) 18 September 2013
Tunbridge Wells has been chosen as the the home of Darlings of Chelsea's newest showroom, the luxury furniture retailer has announced. Following on from the recent opening of the sofa brand's St. Albans showroom, the Tunbridge Wells store is just the latest addition to a string of successful and popular Darlings of Chelsea outlets, furthering the retailer's reach across the UK. The stores in Tunbridge Wells and St. Albans join Fulham, Birmingham and Manchester as the locations of furniture retail outlets that showcase luxury leather furniture and beautiful designs.
Luxury furniture in the heart of Tunbridge Wells
Located in Monson Road, the new Darlings of Chelsea showroom is one of many specialist shops on this bustling street that nevertheless retains a traditional and local feel. The position of the store was carefully chosen so as to represent the timeless and classic feel of much of Darlings' furniture, as well as being easily accessible: the new showroom is just a short walk from the main Tunbridge Wells railway station and easily accessible by car, thanks to a multi-tiered car park on Crescent Street, a mere three minutes away on foot.
Visitors to the Tunbridge Wells sofa showroom will be treated to a wide selection of Darlings of Chelsea's handmade leather sofas, fabric sofas, armchairs and other pieces of outstanding furniture. Fully representative of the superior quality of the brand's extensive range, the new collection includes classic and contemporary designs. The Austin Chesterfield and Chelsea ranges on display demonstrate Darlings of Chelsea's traditional leather sofa designs while a variety of modern and Italian leather sofas are also in store. So too is Darlings of Chelsea's lovely tan design: the Sloane range of sofas and chairs. As well as a range of different sofa sizes, there are corner sofas, modular sofas, sofa beds and armchairs. The luxury retail chain's selection of fabric sofas is represented by the ever popular Alice Modular Fabric sofa and many more modern as well as traditional designs.
Visitors are welcome to browse the furniture and try it out for themselves. Darlings of Chelsea's experienced and knowledgeable staff are on hand to talk customers through the options available and to make suggestions and to offer any advice that is requested.
Getting to Tunbridge Wells
Situated in Kent, Tunbridge Wells is near to the border with East Sussex, and about 30 miles from London. Trains from London Bridge or Charing Cross can reach the main Tunbridge Wells station in less than an hour. It takes a similar amount of time to get to Tunbridge Wells from London by car. Tunbridge Wells is near to both the M25 and Gatwick Airport.
Anyone from out of town who is visiting the new Darlings of Chelsea showroom in Tunbridge Wells should also make a trip to the impressive ornamental gardens at Calverly Gardens, just a short walk away. Tunbridge Wells also has a popular Farmers' Market that attracts visitors from all over the region.