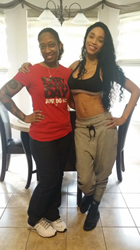 Los Angeles, CA (PRWEB) March 25, 2015
Earlier this year, Darnaa treated Marissa Alexander to an unforgettable Valentine's Day! The day was filled with facials, massages, pedicure, girl talk, and a special dedication song performed by Darnaa. A shopping trip for Marissa and her children was provided along with a home cooked Italian meal from her attorney Bruce and his wife Nancy. The evening concluded with two-dozen roses being sent to Marissa's home from iHeart Radio's 93.3 radio personality, "Dr. Doom."
In spite of her shocking incarceration, Marissa is determined to move on to a new chapter and further her education to become a paralegal to help women in similar situations. This strive for women empowerment is something Darnaa can closely relate to because of her own personal experience with abuse.
On March 2, 2015, Darnaa flew to Jacksonville, Florida to visit with Marissa, who is confined to her home for the remainder of her 5-year sentence, according to court documents (Circuit Court, Fourth Judicial Circuit, in and for Duval County, Florida Case No: 2010-CF-8579-AXXX). Upon arrival Darnaa presented her with the first check towards Marissa's education fund. Darnaa believes that all women should have an outlet to tell their inspiring stories. She takes her painful moments and channels them into giving back positive messages into the universe through her music. Darnaa finished her trip to Jacksonville with a live on-air visit with iHeart Radio 93.3 personalities T.Roy and Dr. Doom who sneak previewed Darnaa's new single "Some Kind of Way".
Darnaa's painful past inspired her team to write the song "Survival" that is influenced by powerful women's stories just like Marissa. Darnaa performed the empowering indie pop track at this year's SXSW Festival in Austin, TX, and will be performing at The Shrine in New York City on March 26th. https://soundcloud.com/darnaa/survval
Marissa wanted to say a huge thank you to Darnaa and her entire team for making this one of the best days she has had in a very long time.
Please direct media inquiries to Matt Yorio at MLC PR: matt@monaloring.com or (323) 462-8080.
###
About Darnaa
Darnaa is an Indie artist who's music, lyrics and passionate vocals tell her courageous story of her personal struggles and her ability to overcome them. Originally from Sacramento, California, Darnaa was born into an impoverished home of ten siblings. At age twenty Darnaa moved to New York to make music and "become a Lady". Her difficult life is reflected in the songs she has recorded and performed such as "Runaway," "Already Loving You," "Wild Child," and "Overdose".
Darnaa has recorded more than thirty-five songs and recently recorded five songs with super producers Alex Cantrell and Harvey Mason Jr. In addition, both Judge Jules and Drumma Boy have remixed songs of hers. "Cowgirl" was her first radio single and was a more sexy, confident, playful statement about her new spirit and desires. Her two most recent singles, "Survival" and "Some Kind of Way," are about women celebrating the end of bad relationships and the beginning of new ones. "Survival" is also about overcoming a difficult time in life when one didn't think it was possible.
Darnaa has consistently ranked as one of the top Indie artists on Reverb Nation and recently had the #2 most downloaded song on Media Base and Serato for her single "Cowgirl." Her music videos have gone on to garner more than 3,000,000 views. Darnaa recently completed promotional tours in London and Seoul resulting in 53 stories written about her and 81,000,000 impressions. She has also performed at Sundance and SXSW. http://www.reverbnation.com/darnaa
Darnaa has her own road show and has supported such artists as Travie McCoy, B.O.B., French Montana, Miguel, Flo Rida, T.I., Dev, R. Kelly, Kid Sister and Kem. She has performed more than 60 shows ranging in audience size from the Whiskey A Go Go to 10,000 capacity clubs in Asia. Last year Darnaa hosted her own party at SXSW with 49 indie bands in a 15,000sf tent. This year she took over the VooDoo Lounge on 6th Street for two days and performed at the Dirty Dog Bar.
Darnaa's 2015 plans include staging her own independent 26 city Caravan tour to promote her new single "Some Kind of Way" and returning to Asia for a 10-20 city tour to promote songs she recorded and released while in Asia last year.
###
About Marissa Alexander
Marissa Alexander is a proud African American mother of three, a loving daughter and sister, she has earned an MBA, she's a woman of faith, and she's a survivor of domestic violence. According to court documents, Ms. Alexander was sentenced to twenty years in the Florida criminal correctional system in 2012 for defending herself from her abusive estranged husband. Nine days after giving birth to a premature child, she fired a single warning shot upwards into a wall to halt her abusive partner during a life-threatening beating (District Court of Appeal First District, State of Florida Case No. 1D12-2469).
Despite the fact that Marissa Alexander caused no injuries and has no previous criminal record, and despite the fact that Florida's self-defense law includes the right to "Stand Your Ground," she was arrested by Jacksonville police and charged with aggravated assault. She rejected a 3 year plea bargain because maintained her innocence and right to defend her life. After 12 minutes of deliberation, a jury of 6 people convicted Ms. Alexander of three counts of aggravated assault, court documents indicate. Her sentence was set at 20 years in part due to the state's mandatory minimum sentencing laws. Marissa Alexander successfully appealed the trial, overturning the guilty verdict on 9/26/13. She was released on bond on 11/27/13 and is now under home detention. http://www.msnbc.com/msnbc/marissa-alexander-may-be-released