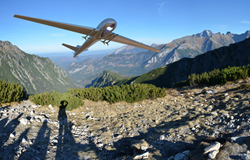 The World Patent Marketing Advisory Committee includes impressive individuals like Ambassador Dell Dailey, Navy Admiral Al Konetzni, Former US Attorney Matthew Whitaker, General Nitzan Nuriel of the Israel Defense Forces...
Miami, FL (PRWEB) November 10, 2016
World Patent Marketing, a vertically integrated manufacturer and engineer of patented products, reviews DARPA and the many ways it has influenced modern society with its groundbreaking inventions and $3 billion annual budget.
While World Patent Marketing is a technological powerhouse on the cutting edge of invention discoveries, they can't quite match up to DARPA. The World Patent Marketing Advisory Committee includes impressive individuals like Ambassador Dell Dailey, Navy Admiral Al Konetzni, Former US Attorney Matthew Whitaker, General Nitzan Nuriel of the Israel Defense Forces, Presidential Advisory Council Member Dr. Aileen Marty, Congressman and War Hero Brian Mast, and so on, but when it comes right down to it, DARPA's $2,973,036,000 annual budget goes a long way. Everything from digital communications, jets that are invisible to radar, weather wars, and self-driving cars all come from one source. They are DARPA inventions.
DARPA, or the Defense Advanced Research Project Agency, is a super-secret research agency, created in the middle of the last century to keep the US at the top of military technology. While DARPA's goal is to create advanced weapons systems, many of its inventions and technologies have found their ways into our everyday lives.
Possibly DARPA's most prominent and significant invention is the internet. It was originally designed as a fail-safe communications system that would always reach its destination. This was back when people use landline phones, so if there was no connection between two places, they wouldn't be able to communicate with each other. This system included address protocols that allowed telephone lines to connect using any connection, even ones from overseas, so any two places could be connected, even if not directly. It was later adapted for use in computers, with the first e-mail being sent in 1972. It eventually found its way to universities and colleges, then private businesses, and finally, to our homes.
Another revolutionary invention that came from the DARPA program is GPS, the global positioning system that has changed how people locate one another, greatly benefiting shipping and delivery services, airline transportation, military defense, and us in our daily lives. The GPS consists of four satellites using the doppler effect to pinpoint an exact position within 3.5 meters. In 1957, William Guier and George Weiffenbach noticed that the change in the frequency of the radio waves of the Sputnik allowed them to track its location. This is what eventually led to the GPS. After decades, as technology caught up, the project was fully developed into what we know today. It was originally considered too expensive to maintain, but the war with Russia justified the expense. It was eventually made available to the public by President Ronald Reagan after Flight 007 lost its way and was shot down over Russian airspace.
The basic concept for Google Maps was also invented by DARPA. Google added a friendlier interface and more map details, but it was DARPA who came up with street view and 3D city representations. In 1979, a group of MIT students toured Aspen, filmed it, and created a virtual representation of the city for people to view. It even included historical views and the insides of certain buildings. Google took the idea and replicated it across the world. The inspiration is said to have come from an attack on an airliner in Entebbe, Uganda. The Israelis were effectively able to rescue the hostages on the aircraft after training in a virtual replica of the airport.
The Urban Phototonic Sandtable Display is another invention that is still currently being worked on by DARPA. It combines holographic displays with a special sand to create terrain maps. This allows DARPA to create physical structures using holographic imagery. The sand forms itself in the shape of the hologram. The current table is only 6 feet square, but there are plans to use it for battlefield planning purposes.
Since they are responsible for the internet, it's no surprise that DARPA also had a hand in creating operating systems for computers. DARPA invented the Multiplexed Information and Computing Service for the purpose of "information utility," known as Multics. Multics eventually morphed into Unix, which is the backbone of OS X, iOS, Android, and Linux. The goal was to create a system that allowed computers to work independently but in a coordinated manner. Security was extremely important and certain users could only access the areas of the system they were given access to.
DARPA went even further, thanks to the inventions of Douglas Engelbart, to create a framework for the modern operating system in the style of Windows. He proposed that he could "develop a comprehensive framework for augmenting human intellect" with the oN-Line System or NLS. This system created many standards for computers today, such as the cursor/mouse system and hypertext linking.
Much like Siri today, DARPA was also responsible for the first voice recognition software, named CALO, Cognitive Assistant that Learns and Organizes. The name came from the Latin calonis, meaning a soldier's servant. SIRI was released shortly after this and DARPA is now currently working on a new voice recognition program called BOLT, the Broad Operational Language Translation Program. This is designed to help soldiers with translation in the field.
DARPA also took part in the creation of the Arbor Network, a system that protects computers from Distributed Denial of Service, or DDoS, attacks. This system started out under the name of the Lighthouse Project back in 2000 at the University of Michigan, under DARPA contract
In addition to security, DARPA has also had its hand in internet privacy, with the creation of onion routing. Now known as Tor, this is the best-known system of anonymous internet use at the moment. Onion routing dates back to 1995 when the Navy wanted a secure communication system and DARPA joined the project two years later to provide its funding and expertise. Onion routing uses layered encryption codes to send packets of data to other servers anonymously by peeling off each layer of the code to find out where it will go next and destroy information about where it came from. This creates a very high level of security and anonymity.
DARPA has been and continues to be involved in the most current technologies on Earth, from planes and bombs, to stealth technology, to positioning and communication systems. The agency is currently working on developing the fastest plane in the world, the Falcon HTV-2, which flies at 14000 mph, as well as reducing processing speed with technology millions of times faster than what we use today. DARPA will continue to shape technology with its inventions and build the future of our world.
ABOUT WORLD PATENT MARKETING
World Patent Marketing is always looking for new invention ideas. The company provides invention services and is one of the only invention companies that engineers and manufactures its own products. The company is broken into six operating divisions:
Patent Intelligence and Analytics * Prototypes and Manufacturing * Distribution and Retail * Digital Marketing and Social Media * Direct Response TV and Internet Video Production * Patent Licensing & Investments
As a global leader in the invention services industry, World Patent Marketing is by your side every step of the way, utilizing its capital and experience to guide the invention process towards a successful product launch so you can be one of the next World Patent Marketing Success Stories.
World Patent Marketing Reviews enjoy an A+ rating with the Better Business Bureau (World Patent Marketing BBB) and has earned five-star ratings from Google and consumer review sites such as Consumer Affairs, Trustpilot, Shopper Approved, Customer Lobby, ResellerRatings, My3Cents and World Patent Marketing Glassdoor.
The CEO of World Patent Marketing, Scott Cooper, is also a Director of The Cooper Idea Foundation is the founder of the New York Inventors Exchange and has also been a proud member of the National Association of Manufacturers, Duns and Bradstreet, the US Chamber of Commerce, the South Florida Chamber of Commerce, the Miami Beach Chamber of Commerce, the Greater Miami Chamber of Commerce, the Association for Manufacturing Excellence and the Society of Plastics Engineers.
Those who are wondering how hard is it to get a patent or how much does it cost to patent an idea, should contact the invention marketing experts.
World Patent Marketing credits its invention success to it's powerful and influential advisory board and its controversial "shock content" approach to invention marketing.
To submit invention ideas, contact World Patent Marketing at (888) 926-8174. Corporate headquarters located at 1680 Meridian Avenue, Miami Beach, Florida 33139.