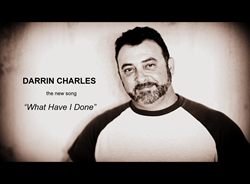 "I am extremely excited and blessed just to be chosen, and thanking all the judges."
ORLANDO, Fla. (PRWEB) March 16, 2019
Darrin Charles, a music artist from the New Port Richey Florida Area, first single "What Have I Done" was officially selected from thousands of other entries. Once the judges narrowed the field, Darrin's song was included in that group. Entering the competition, Darrin had to compete against a host of other artists, producers, and musicians.
Using lyrics that touch on spiritual themes along with "everyday situations of life," Darrin takes his place among the rarefied air of songwriters who can probe both secular and spiritual themes. Charles was first recorded in 2003 in a mall kiosk in New Port Richey, Florida. Today, Darrin introduces his song in a market place dominated by artists who are generally under 25, even though Darrin is over forty. Darrin plans to release his new song in the next few months. "I am extremely excited and blessed just to be chosen, and thanking all the judges," Darrin said in a late night phone call. "This is a great way to launch a career with his first song, first submission, first music festival and first selection process to be in a festival."
In his first song "What Have I Done" Darrin asks his audience the vital question almost everyone ponders in their heart, "How could God love such an imperfect being like me?" CEO Joseph A. Camerieri of independent label David and Goliath Publishing, LLC., an executive producer of the song, said, "In my circles, people agree with my analogy that it's a Spiritual prequel or point of view to the most successful Christian song `I Can Only Imagine' by Mercy Me. I am a huge fan of that song in which it brings tears to my eyes all the time as with Darrin's song too." By 2017, Darrin's team had raised enough financing to record the song at Big 3 Studios in St. Petersburg, Florida. Jim Beaman was the producer and Chief engineer and mixer.The recording engineer was Mark Parfitt.
"The last few years it's been tough for Darrin, and this selection is a huge blessing, a light for Darrin's path set before him," Camerieri stated. "Thank you to all his band mates and musicians and those judges of the International Christian Film and Music Festival who selected our song for the festival. I think all people should listen to it."