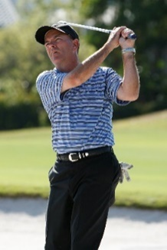 "We are thrilled to have Darryl Jack as part of our team. He comes with a wealth of golfing experience, knowledge and leadership skills. I am very confident he will take our golfing programs to new heights" said Paul Rifenberg, Wycliffe Head Golf Pro
Wellington, FL (PRWEB) October 03, 2015
Wycliffe Golf & Country Club, a premiere residential private residential golf community, recently hired PGA Professional, Darryl Jack as the new Director of Golf.
In 1982-83, Darryl began caddying on the LPGA Tour and subsequently turned pro in 1984. Soon after, he began teaching and playing professionally at Wykagyi Country Club, located in New Rochelle, NY and later on in 1990, secured his PGA Membership. Darryl then opened Osprey Cove Golf Club in St. Mary's Georgia, as the Director of Golf and as their General Manager.
Darryl held other prestigious positions including being a Head Professional at Wiltwyck Country Club, Woodstock Club and the Lead Golf Master Instructor at the Jim McLean Golf Schools. Soon after, Darryl soon was named a Featured Instructor on The Golf Channel's "Golf Academy Live", which was a pivotal moment in his golfing career. Having four professional tournament victories under his belt, including the 2008 Northeastern New York PGA Section Match Play Championship, Darryl continued to be a driving force in the game.
Since joining Wycliffe Golf & Country Club in September 2015, Darryl has begun creating new cooperative programs in areas such as: golf instruction, fitness and nutrition. These will in-turn, bring more interaction with members while enhancing their overall experience and love for the game.
"Darryl's expertise and lifetime of golf experience is exceptional. Having him on our team and leading our golfing programs, will add tremendous value to the club and the membership." Said Darrell Wilde, General Manager/COO of Wycliffe Golf & Country Club
"We are thrilled to have Darryl Jack as part of our team. He comes with a wealth of golfing experience, knowledge and leadership skills. I am very confident he will take our golfing programs to new heights" said Paul Rifenberg, Head Golf Pro at Wycliffe Golf & Country Club
About Wycliffe Golf & Country Club:
Wycliffe Golf & Country Club is a private golf community real estate property that offers luxury living for its club members. Located in Wellington, FL, the gated community boasts lush landscapes that host impressive homes, two 18-hole golf courses, 16 Har-Tru tennis courts, state-of-the-art Fitness Center and Spa, numerous activities and clubs, as well as an expansive clubhouse with two dining venues. For more information, please visit http://www.wycliffecc.com or contact Wycliffe's exclusive on-site realtor, Jim Wagner at 561-868-4557.