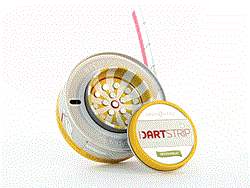 "Enter Dartstrip, a new product that epitomizes how the best design should be invisible."
New York, NY (PRWEB) November 22, 2013
Since its launch on Kickstarter just over two weeks ago, Dartstrip—the 8 foot magnetic & removable display system rolled up in a tin—has already attracted almost 800 backers from all over the world and is 90% towards its funding goal of $30,000.
The highly regarded home design blog, Apartment Therapy calls Dartstrip "the chic, sleek and easy-to-use hanging system you need to know about." Core77, the go-to resource for industrial design, writes: "Enter Dartstrip, a new product that epitomizes how the best design should be invisible." MomFilter, the lifestyle playbook for families by Pilar Guzmán and Yolanda Edwards (founding editors of Cookie Magazine), declares Dartstrip "the invention we have all been waiting for."
Dartstrip is so simple and useful, it falls into that rare category of products that can be considered a staple of any home or office. A dispensable, 8 foot white steel strip backed with removable adhesive, Dartstrip can be snapped to any length in 1-inch increments and put up on a wall; using the enclosed 16 powerful rare earth magnets, Dartstrip becomes a discreet and customizable display system.
Dartstrip is packaged in a reusable, recyclable tin for dispensing the steel strip as well as retracting any unused portion for storage. The tin also provides a convenient compartment for storing the included magnets. Dartstrip currently comes in two versions: Dartstrip with 16 Discs and Dartstrip with 16 Barrels. Disc magnets are small and discreet, yet incredibly powerful. Barrel magnets are slightly stronger and encased with white plastic for easy handling.
While there are a number of magnetic display products on the market, Dartstrip stands out for its ease of use, discreet presence, and the ability to customize to one's space. Snap off an inch to hang a photo, a longer piece for notes by your desk, or up to 8 feet to display drawings, posters, holiday cards, and more. No tools are required—making it incredibly easy to pull, snap, peel, put up and remove as needed.
Dartstrip is ideal for artists, parents, photographers, teachers, and designers and can be used in a variety of settings including rental apartments, art studios, dormitories, offices, and craft rooms. Dartstrip solves the universal problem of displaying postcards, holiday cards, party decorations, photos and children's art without without damaging the wall or the art.
Dartstrip is being manufactured in the United States with US and imported parts. The project's $30,000 funding goal will go towards Dartstrip's first production run and will allow the company to meet the minimum order quantities set by their manufacturer.
With only 4 days left in Dartstrip's Kickstarter campaign, there is still time for backers to pledge $25 and receive the flagship product. To back the project today or to view the full line of pledge offerings visit Dartstrip's Kickstarter page.
About Dartstrip:
The Dartstrip team is comprised of Kermit Westergaard, Azadeh Houshyar Westergaard, and Anthony Coleman—three partners brought together by a mutual love of design and a commitment to bringing simple and useful products to market.
An industrial designer, Kermit Westergaard oversees Business Development and is the co-inventor of Dartstrip (with novelist & photographer, Anna LeVine Winger). Azadeh Houshyar Westergaard, oversees the Creative Direction, Branding and Marketing of Dartstrip. Partners in business and marriage, Kermit and Azadeh also founded Made By Two LLC, a studio which focuses on architectural design and property development. In addition to the design of private residences, their commercial work includes Northern Spy Food Co. and the flagship storefront for La Colombe Coffee.
Anthony is a business manager, with a background in business and product development. At Wasserstein Perella & Co., he advised on strategic acquisitions and business development for companies such as IMAX Corporation and Starter Corporation. He has worked in product development, sales and sourcing in the export industry in Europe, supplying major brands and retailers such as Procter & Gamble, K-Mart, and Fotex.
For more information about Dartstrip, please visit: http://kck.st/16zgcfV.
Additional graphics and hi-resolution images are available upon request.
Follow Dartstrip:
http://www.facebook.com/dartstrip
http://www.twitter.com/dartstrip