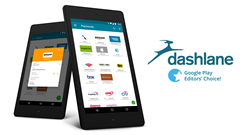 New York, New York (PRWEB) September 11, 2015
Today Dashlane announces its selection as an Editors' Choice app in the Google Play Store. Dashlane is the first password and identity management app to receive this coveted designation from Google.
The Editors' Choice designation caps an already impressive 2015 for Dashlane's password manager, which was featured in the Play Store for two weeks in May as one of the top performing apps in the productivity category. Dashlane also received Google's Top Developer badge and was selected to demo its adoption of Android M fingerprint technology at Google I/O in May.
Known for its powerful security and simple usability, Dashlane's success on the Android platform is a result of its innovative implementation of Material Design and rigorous user testing to deliver an outstanding customer experience on every device. Dashlane's relentless pursuit of customer-centric design has resulted in a password manager that Android users love, and one that improves their overall Android experience.
The numerous, official recognitions for its Android app coupled with the fact that Dashlane is the first password manager and one of only a handful of productivity apps to receive an Editors' Choice selection, solidifies the importance the app plays in Google's eco-system. Additionally, it reflects the growing awareness by the world's leading technology companies that their users care deeply about their online security and privacy. Tools, such as password managers, are at the forefront of this movement and Dashlane continues to be a driving force in the industry.
Emmanuel Schalit, CEO, Dashlane, states:
Dashlane's core principle is to make identity management simple and universal. By working closely with the Google team, who gave invaluable feedback to improve every aspect of our Android app's user experience, our engineering and design teams provided our Android users with an unrivaled password and identity solution, and we are thrilled that Google understands the value that security and privacy applications such as Dashlane bring to its users.
The release of Android M, combined with Material Design, has provided Dashlane with additional flexibility to demonstrate our innovative approach to delivering simple solutions for all users. We are extremely proud of our accomplishments and look forward to making even greater strides in the Android eco-system.
About Dashlane
Dashlane makes identity and payments simple with its password manager and secure digital wallet app. Dashlane allows its users to securely manage passwords, credit cards, IDs, and other important information via advanced encryption and local storage. Dashlane has helped over 3.5 million users manage and secure their digital identity, and has enabled over $3.8 billion in e-commerce transactions. The app is available on PC, Mac, Android and iOS, and has won critical acclaim by top publications including The Wall Street Journal, The New York Times, and USA Today. Dashlane is free to use on one device and Dashlane Premium costs $39.99/year to sync between an unlimited number of devices.
Dashlane was founded by Bernard Liautaud and co-founders Alexis Fogel, Guillaume Maron and Jean Guillou. The company has offices in New York City and Paris, and has received $30 million in funding from Rho Ventures, FirstMark Capital and Bessemer Venture Partners. Learn more at Dashlane.com.