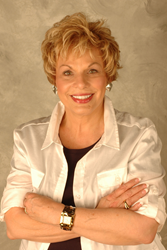 The experts and guests we feature always have something newsworthy to discuss," said Kathryn.
Cincinnati, OH (PRWEB) August 25, 2016
Kathryn Raaker announced this week a new agreement with Dash Media, owner of several networks, reaching an additional 60 million households across the country. Holyfield TV, American Cooking Network, Movee4U and MyLife Media will all begin broadcasting three of Raaker's TV programs, including her newest one,Let's Just Talk TV, as well as The Chef You and I and Born B4 64. She will continue to provide other programs that she does less often, when available.
Known for her bubbly personality, engaging conversations and educational information, Kathryn is delighted to be part of these networks. "This allows many more viewers to tune into our programming," Kathryn said. "I love being able to bring experts, authors, cooks, doctors and just ordinary people to TV. Everyone has a story to tell, and our shows give people the opportunity to tell their story."
Kathryn's well known for radio (Let's Just Talk) as well as TV, and she is happy to announce a new TV program, Let's Just Talk TV, similar in style and content to her Let's Just Talk radio. Dash Media will also be airing two other programs, The Chef You and I, which discusses healthy-eating and features chefs from all around the world; and her ever-popular program, Born B4 64 which highlights boomers, born before 1964. Guests on Born B4 64 are continuously entertaining listeners with their second and third career choices, reinvention of themselves and life-experiences that all ages love to hear.
Raaker also produces American Dream Business Roundtable and Timeless Performers and co-producers other programing. Her desire is to see anyone interested in TV or radio fulfill their dreams and she helps them achieve that goal. There is great excitement about adding four additional networks to her ever-growing list of distribution. "When we can reach more and more people with our programs, I love it! I love letting my guests know that they will be seen across the country and, of course with our Internet affiliates, around the world! The experts and guests we feature always have something newsworthy to discuss," said Kathryn.
Dash Media is owned by John Dash, an industry leader for 25 years, known for his creative turn-key productions and state-of-the-art technology.
Earlier this year Kathryn introduced a new app for smart phones and other devices, allowing the users to tune into her radio programming. For more information about Kathryn Raaker, Let's Just Talk visit her web site at http://www.kathrynraaker.com To download the app visit the App Store, type in Let's Just Talk with Kathryn Raaker and install this free app.
Contact:
Kathryn Raaker
513-616-6986
Kraaker123(at)gmail(dot).com