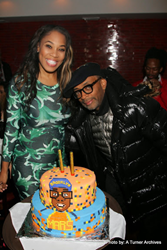 New York, NY (PRWEB) February 18, 2015
This past week during the All-Star festivities in NYC, at the newly opened posh restaurant, Red Stixs; famed Emmy-Award winning Director/Executive Producer Spike Lee and Executive Producer Monica "Dollphace" Floyd hosted a private dinner with VIP friends, cast members and selected media for their new stylized thriller film, "Da Sweet Blood of Jesus". Attendees included host Karen Civil, Angela Simmons, Claire Sulmers (Fashion Bomb Daily), Yomi Desalu (MTV), Paul Juma (NY Times), Azeem Khan (Huffington Post) Nandy Mason & Mercedes Vanderbunk (BET), Tahiry Jose, Marquetta Moore (Revolt), and Po Johnson. Cast members of the movie Zaraah Abrahams, Felicia 'Snoop' Pearson, and Elvis Nolasco were also in attendance.
Throughout the evening, guests shared a three-course dinner experience while mingling over specialty Ciroc cocktails in celebration of the release of "Da Sweet Blood of Jesus". Spike Lee and Monica "Dollphace" Floyd both shared intimate stories and laughs of when they met and how this movie came to fruition. Spike even jokingly recited Ciroc's catch phrase, "Step Into The Circle" as he said his thank you speech. Host Karen Civil gave a heart-warming toast while guests raised their glasses over Belaire Rose'. The evening ended with a celebratory cut of a grand three-tier cake of Spike Lee's image in Lego form provided by Alyina's Cakes. As guest departed they were gifted with an exclusive Sprayground backpack designed by Spike Lee and Mars Blackmon filled with a Ben James hat and the soundtrack for "Da Sweet Blood of Jesus" provided by Epic Records.
"Da Sweet Blood of Jesus" will be the first horror-thriller film by Spike Lee and Monica "Dollphace" Floyd. The thriller was released on the infamous superstitious day, Friday the 13th (February 13, 2015). This film was mostly funded in the new non-traditional way via Kick Starter, which raised over $1.4 million in funds.
"Whenever Lee ventures away from the outrageous particulars of the plot, "Da Sweet Blood of Jesus" transforms into a stylish means of exploring contemporary struggles in urban black America by depicting it as a ballet of navigating personal and practical conflicts alike", says Eric Kohn of Indie Wire.
Special thanks to the family, friends, sponsors & media outlets who supported: Huffington Post, NY Times, Fashion Bomb Daily, The Source, MTV, All Hip Hop, BET, Revolt, Epic Records, Hip Hop Weekly, KarenCivil.com, Blackcode, Thisis50, Deal Makerz, Alyina's Cakes, Urblife.com, Belaire Rose', Sprayground, Bleu Magazine, Marilyn Van Alstyne, EMVE, Jessica Mortime, Chanel Auguste, MCL Media, The Ravenel Agency, MCM-PR, 40 Acres & A Mule Filmworks, True Vision Media Group, Red Stixs and the amazing team behind "Da Sweet Blood of Jesus".
About Da Sweet Blood of Jesus
A Spike Lee Joint, "Da Sweet Blood of Jesus", is a new kind of love story, one that centers on an addiction to blood that once doomed a long forgotten ancient African tribe. When Dr. Hess Green (Stephen Tyrone Williams) is introduced to a mysteriously cursed artifact by an art curator, Lafayette Hightower (Elvis Nolasco), he is uncontrollably drawn into a newfound thirst for blood that overwhelms his soul. He however, is not a vampire. Lafayette quickly succumbs to the ravenous nature of the infliction but leaves Hess a transformed man. Soon Lafayette's wife, Ganja Hightower (Zaraah Abrahams), comes looking for her husband and becomes involved in a dangerous romance with Hess that questions the very nature of love, addiction, sex, and status in our seemingly sophisticated society.
A reinterpretation of Bill Gunns horror cult film Ganja & Hess, which played as a Critics Choice at the 1973 Cannes Film Festival, Spike Lee's stylized thriller features an Original Score by Bruce Hornsby.
For more info, please visit http://www.DaSweetBloodofJesus.com
Da Sweet Blood Jesus on Facebook: http://www.facebook.com/DaSweetBloodofJesus
Click HERE to watch the trailer
Available in select theaters, VOD (Vimeo on Demand) and iTunes NOW!
Continue to Tweet and Instagram! #DaSweetBloodofJesus #DollPhaceMusic
Spike Lee Twitter: @SpikeLee
Spike Lee Instagram: @SheltonJLee
Monica "Dollphace" Floyd: @DollPhaceMusic
Photo credit: A.Turner Archives
Link to all photos: http://goo.gl/zTgcvO
For media inquiries please contact Francoise Blanchette at Francoise(at)MCM-PR.com